Norn but not forgotten on Shetland
"Shoormal is a lovely word", says poet Raman Mundair. "It's the meeting point of the sea and the shore."
Raman was born in India, yet it is not a Hindi word that thrills her.
She now lives in Shetland, and it is the language spoken in these beautiful windswept islands which has captured her imagination.
The dialect of the Shetland Islands is one of the most distinctive spoken within the British isles, heavily accented and studded with words left over from the now extinct Norn language which was spoken on the islands until the late 18th century.
Even now, reaching for expressions to describe the natural world, places, the seasons, food, tools, colours, moods or states of agitation or excitement, Shetlanders will often use Norn words.
Mark Smith in the Shetland Museum and Archives flicks through the Norn dictionary compiled in the 1920s by Jakob Jakobsen.
The language might no longer be spoken but this reference book shows its continuing influence.
"Here's a good example", he says. "Fleckit is still used by Shetland dialect to speak about the different colours on a cow."
Laureen Johnson works with the group Shetland ForWirds which aims to keep the dialect alive.
"I naturally speak the Shetland dialect", she says.
"It's my native tongue and I don't make any great efforts to write in any other way except the way I speak."
She sees ways in which new technology is unexpectedly helping preserve the words.
"Activities like texting and e-mailing and Facebook pages are actually places where dialect comes to the fore. I think it's because these places are informal, you can write as you talk and nobody is going to say this has been spelt wrongly!"
'Takes a grip'
It is complicated for outsiders, as they need to get their head around expressions such as "you dunna talk ling among da drewie lines" ("if you want to achieve anything you have to make the effort").
But it has not put off Raman Mundair.
She travelled north to Shetland after her family brought her to the UK at the age of five.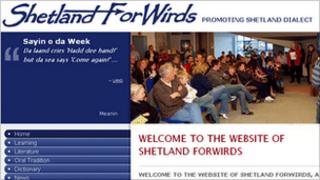 "I write in many languages. I use Urdu, Hindi, Punjabi in my work as well. It's about the many places and the many identities I've assumed. I see myself as a Shetlander now, but I also see myself as British and many things at once."
Christine de Luca no longer lives in Shetland but she remains passionate about the islands and their unique dialect.
Her poetry describes the rugged cliffs and deep inlets of the sea-washed islands, and she says it could not be done in English.
"I don't think I could even begin to try. We've got these long vowels and percussive consonants and it's kind of like the sea and the weather and the land, which is hard and barren and open. It takes a grip of you."
There is a need to make sure that the dialect does not exclude people in a part of the world which is surprisingly cosmopolitan.
With the support of both those born on the islands and those coming to find a new life in the midst of the north Atlantic, the Shetland dialect has both a rich past and, it seems, a promising future.
Norn But Not Forgotten: Sounds Of Shetland, Sunday 29 August, 1630-1700 BST, BBC Radio 4.