Lifeboat crewmen memorial unveiled in Fraserburgh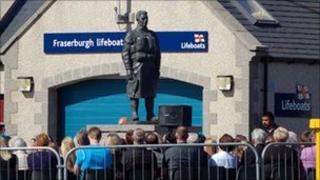 Hundreds of people have attended the unveiling of a memorial to 13 RNLI crewmen who lost their lives in three lifeboat capsize disasters.
Two of the men died in 1919, six lost their lives in 1953, and five more perished in 1970.
A life-size bronze lifeboatman statue - the design of which had been a closely guarded secret - was unveiled at Fraserburgh lifeboat station.
Donations for the memorial came from as far afield as Canada and Australia.
The statue was erected to commemorate the loss Fraserburgh lifeboat, the Duchess of Kent, which set off in a fierce storm to help a Danish fishing boat in January 1970.
It was hit by a huge wave enroute and overturned. Of the six men on board, only one survived.
Seventeen years earlier, six crew members lost their lives when their lifeboat capsized within sight of the port. The crew had been trying to help fishing boats into the harbour.
And in 1919 two lifeboatmen were swept overboard during a rescue.
Their colleagues managed to pull them back on board - but they later died.
An appeal to raise the £40,000 cost of a memorial to the men was oversubscribed by £18,000.