Smoking warning for NHS Grampian patients and staff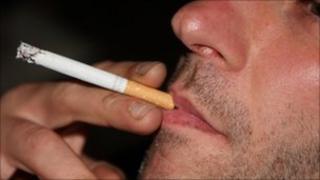 Patients could be refused treatment - and staff disciplined or sacked - if they smoke on NHS Grampian hospital premises, under new plans being considered by the health board.
The move, which was first proposed last year, would see staff banned from smoking while in uniform or wearing ID badges, even during breaks.
Officials put the plans on hold last year after widespread opposition.
If given the go ahead, the rules could be in place from January next year.
Under the plan, smoking shelters outside some buildings, including Aberdeen Royal Infirmary, would be removed, and smoking would be banned across health authority property.
Margaret Watt, of the Scotland Patients Association, said the move could bring health benefits and praised NHS Grampian's stance.
However Tommy Campbell of the Unite union said it was unfair and unworkable.
The idea will be discussed on Tuesday.