Moray RAF Tornados 'could be grounded'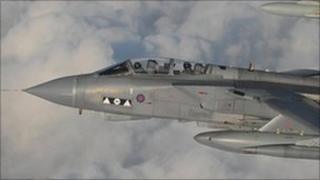 Leaked government documents reveal the Ministry of Defence is considering grounding the RAF's fleet of Tornado GR4s aircraft.
The documents, which are published in The Times newspaper, are said to be part of the UK government's strategic defence review.
They say that withdrawing the Tornado GR4s early would save more than grounding the Harrier jet fleet.
RAF Lossiemouth in Moray is one of two key bases for the RAF's 120 Tornados.
The leaked reports claim that taking the ageing aircraft out of service would save £7.5bn.
The MoD said it would not comment on the content of leaked documents.
SNP Moray MP and defence spokesperson Angus Robertson said: "Speculation over the future of the fast jet fleet is deeply alarming and any threat will be fought tooth and nail by the community in Moray."
Closure fears
It was earlier announced that Scottish Secretary Michael Moore is to visit Moray amid fears for the future of the area's two RAF bases.
There are concerns RAF Kinloss or Lossiemouth could close.
Dozens of jobs have already been lost at RAF Kinloss due to the withdrawal of the Nimrod MR2, which was taken out of service a year early.
The Tornado GR4 is a two-seat, all-weather attack aircraft, capable of delivering a wide variety of weapons.