Painted walls in Orkney '5,000 years old'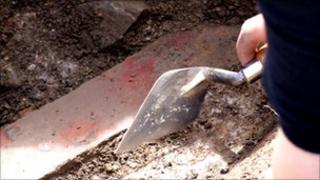 Painted walls believed to be 5,000 years old have been found at a Neolithic excavation in Orkney.
The coloured stonework has been uncovered at the Ness of Brodgar, in the heart of the area's World Heritage Site.
Several coloured stones have been discovered, and it is thought the find is the first of its kind in the UK.
Archaeologists believe iron ore could have been mixed with animal fat, eggs or milk to create a primitive paint.