'Perverse' animal beer bottles sell out in hours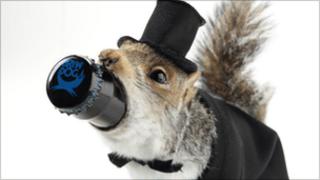 A controversial beer served in bottles made from stuffed animals and costing £500 each sold out in a few hours.
The End of History, made by Fraserburgh firm BrewDog, is 55% alcohol, and came in 12 bottles made using dead stoats, squirrels and a hare.
Advocates for Animals had branded the bottles "perverse" and a "stupid marketing gimmick" and Alcohol Focus Scotland also criticised the move.
One of the buyers told the BBC Scotland news website it was a piece of history.
BrewDog co-founder James Watt said all 12 bottles sold out within four hours.
The Aberdeenshire firm said the beer was the world's strongest and most expensive.
One buyer, economics student Chris Mair, 33, of Suffolk, who lives in Edinburgh, bought a bottle made using a stoat.
He said: "It's one of a set, I have bought special BrewDog beers before.
"If I had not bought this one I would always have wished I had.
"It's a piece of brewing history, I think it will always be the world's strongest beer."
He explained: "It will be a collectors item. You would be mad to open it. It would be like opening a rare bottle of whisky."