Orkney Venus misses out on archaeology award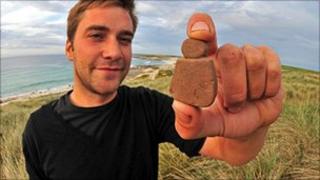 A tiny neolithic figurine from Orkney has missed out on a prize at this year's British Archaeological Awards.
The 5,000-year-old Orkney Venus, which was discovered during excavations in the island of Westray in August last year, is the earliest representation of the human form found in Scotland.
It was up for Best Discovery at British Museum awards in London.
But the title went to the Staffordshire Hoard - the largest collection of Anglo-Saxon gold - discovered in 2009.
The Orkney Venus, a female carving, is just 4cm tall and composed of sandstone.
The carving features a human face with heavy brows, two dots for eyes and an oblong for a nose.
A pair of circles on the chest has been interpreted as representing breasts, and arms have been etched at either side. A pattern of crosses suggests some form of fabric.
Archaeologists unearthed a second ancient figurine at a dig at the same site on Orkney, the Links of Noltland.
It is the same size and shape as the original Venus but is made of clay and is missing its head.
The Orkney Venus, known locally as the Westray Wife, is on display at the Westray Heritage Centre.
Processional crosses
It has already been viewed by more than 100,000 people as part of a special Historic Scotland touring exhibition which has visited Edinburgh Castle, Stirling Castle, Kilmartin House in Argyll and Urquhart Castle on the banks of Loch Ness.
Its name comes from its resemblance to similar figurines classed as Venuses from elsewhere in Europe and beyond.
The other competition entrants were a collection of copper and tin ingots discovered by divers off the coast of South Devon, and the Staffordshire hoard.
The 1,600 Anglo-Saxon artefacts - including sword pommels, helmet parts and processional crosses - were discovered in a field by metal-detecting enthusiast Terry Herbert.
Campaigners raised £3.3m ensure the hoard remained on public display in the West Midlands.