Second Orkney Venus found at Orkney dig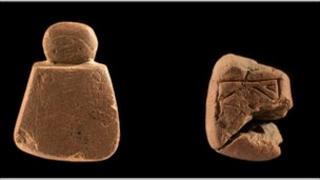 Archaeologists have unearthed a second ancient figurine at a dig on Orkney.
The discovery was made at the same site as the Orkney Venus, the earliest representation of a human figure to be found in Scotland.
The Orkney Venus, a 5,000-year-old female carving which was found last summer, was just 4cm tall and composed of sandstone.
The new find is the same size and shape as the original Venus but is made of clay and is missing its head.
The older Venus is one of three finds which have been shortlisted for Best Discovery at the 2010 British Archaeological Awards.
Both pieces were found at a Historic Scotland dig at the Links of Noltland on the island of Westray.
Culture Minister Fiona Hyslop said: "It is excellent news that a second figurine has been found at the Links of Noltland dig, giving our team of archaeologists more information in piecing together what we can know about the lives of our ancient ancestors on Westray.
"Although these figurines are tiny, their significance is huge and it's exciting to speculate whether there may be more, waiting to be discovered."
The Orkney Venus, known locally as the Westray Wife, is currently on display at the Westray Heritage Centre.
It has already been viewed by more than 100,000 people as part of a special Historic Scotland touring exhibition which has visited Edinburgh Castle, Stirling Castle, Kilmartin House in Argyll and Urquhart Castle on the banks of Loch Ness.
The carving features a human face with heavy brows, two dots for eyes and an oblong for a nose.
A pair of circles on the chest has been interpreted as representing breasts, and arms have been etched at either side. A pattern of crosses suggests some form of fabric.
Its name comes from its resemblance to similar figurines classed as Venuses from elsewhere in Europe and beyond.
The Orkney Venus is facing strong competition in Monday's British Archaeological Awards.
The carving is up against a collection of copper and tin ingots discovered by divers off the coast of South Devon, and the Staffordshire hoard - the largest collection of Anglo-Saxon gold ever found.