Sheep tag delay sparks concerns in Shetland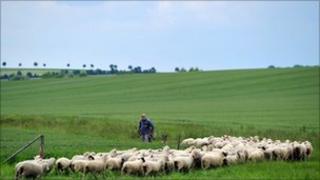 Concerns are being raised in Shetland that a delay in sourcing electronic ear tags for sheep could have an impact on this year's livestock sales and agricultural shows.
Some manufacturers are telling crofters and farmers they could wait up to seven weeks to take delivery of the tags.
Any animal born since 1 January has to be tagged before it can be moved.
The European scheme was introduced at the start of the year, and is designed to allow animals to be properly traced.
But it has already been heavily criticised by the industry and local politicians.
Shetland Islands Council's head of environmental health, Maggie Dunne, said the council was aware of reports of delays in manufacturers sending tags out.
She told BBC Scotland: "We are concerned that it is going to affect the shows because obviously you can't send an untagged sheep or use last year's tags.
"We will be keeping an eye on the situation and letting the Scottish government know about our concerns locally, but really it could even start to affect the early sales season."