Pop surrealist Michael Forbes on not painting the Highlands
By Steven McKenzie
BBC Scotland Highlands and Islands reporter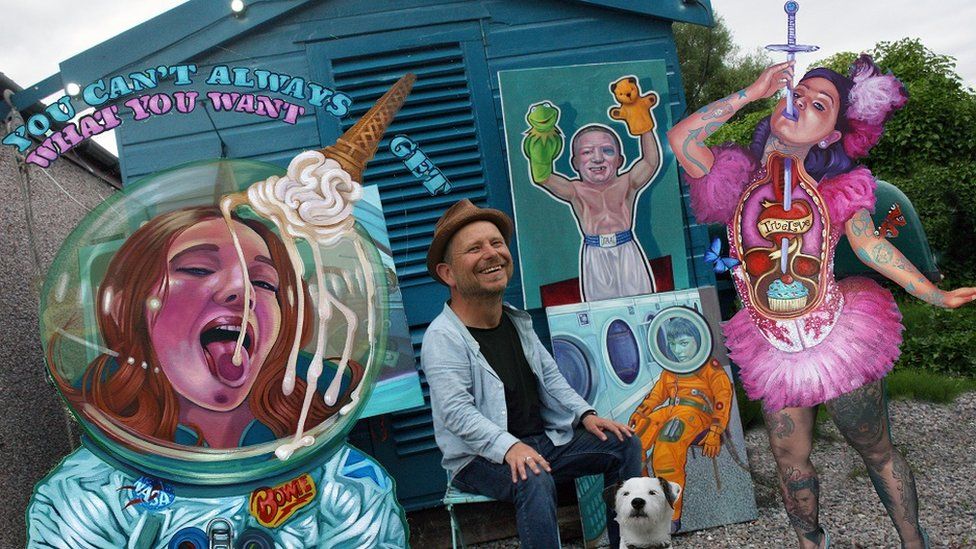 Artist Michael Forbes says he lives in one of the most beautiful parts of the world but has never felt an urge to paint it.
Forbes describes himself as a boy from a council estate in the Scottish Highlands, whose imagination was fired by TV re-runs of classic fantasy films.
Although he was born and raised in the Highlands, he says he is drawn to painting themes and people thousands of miles from his home on the Black Isle.
"A lot of other artists I know in the Scottish Highlands are moved by the landscape and environment around them, and I truly find that beautiful and it is a place I really enjoy living in," says the self-taught artist.
"But as much as I love Scotland and love the environment and landscape, I have no desire really to replicate it in my art."
Forbes' style has led him to be called a pop surrealist.
His artwork has portrayed former US president Donald Trump as King Kong battling superstar singer - and Trump critic - Madonna as the Statue of Liberty.
Another piece, You Can't Always Get What You Want, showing an astronaut trying to lick ice cream dripping down the outside of her helmet, has just been sold to billionaire Sir Richard Branson's new hotel in Edinburgh.
And earlier this year, Forbes won the Highland Society of London Award at the Royal Scottish Academy's 19th annual exhibition with another surreal space-themed painting called Take Your Protein Pill.
Films have been a major influence on Forbes' work.
When he was a boy he was wowed by stop-motion legend Ray Harryhausen's special effects in the 1963 movie Jason and the Argonauts.
"I found the film's scene showing Jason battling skeletons to be really amazing and something was triggered in me," he says.
"I just felt that was imagery I wanted to make."
Like many of his themes, Forbes often finds his artist models far from home.
They include friend and artisan Lauren Zeitz, who lives in the US and posed for the ice cream-craving astronaut painting. Forbes was able to create the painting from photographs taken by Lauren's partner.
He says: "To get the pressure circle of the tongue pressed against the glass, trying to get to the ice cream, I asked Lauren to lick her patio door. It worked really well. She's a good sport.
Sword-swallowing, fire-eater Gigi Delux, who appeared on America's Got Talent last year, has also posed for Forbes.
Over a video link, he directed Gigi's partner on the photographs he needed.
Gigi was impressed with the results.
She says: "Having Michael paint my portrait was such an honour.
"The beauty of it all is how, through technology, we were able to collaborate on an art piece while oceans away from each other and genuinely become friends."
While Forbes travelled in his youth, he now rarely leaves his beloved Highlands.
"I sometimes I think a place on the other side of the world will not be as good as I picture it in my head," he says.