Runrig put their stamp on new Inverness musical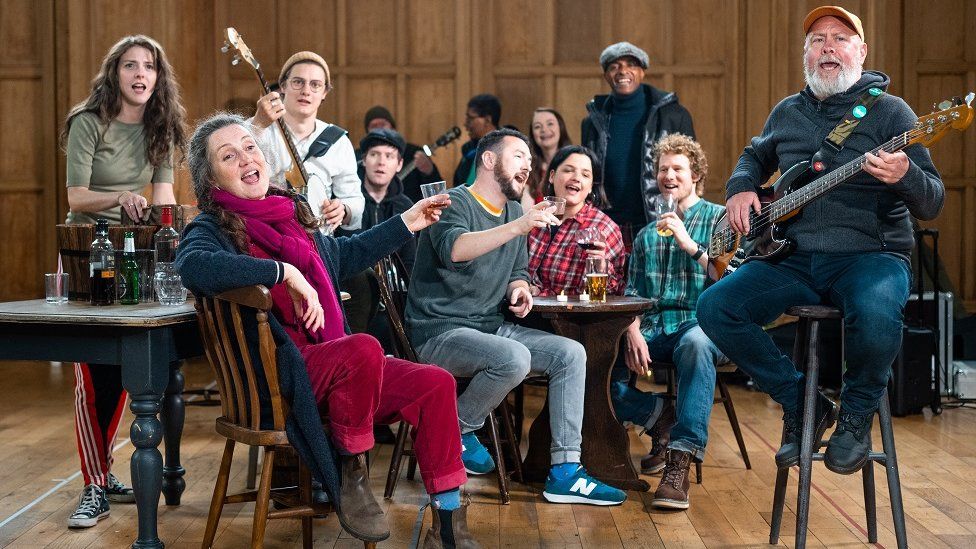 Four years after their final gig, veteran Scottish rockers Runrig's music is being celebrated in a new musical.
Runrig's songs, many of them sung in Gaelic, span more than four decades and the band has a large and loyal following across Scotland and the rest of Europe.
The band enjoyed UK chart success in the 1990s and in 2018 sold-out their final performances, the two-day The Last Dance - Farewell Concert in Stirling.
Runrig's music is now hitting the stage at Inverness' Eden Court in the musical The Stamping Ground.
It is a story about a couple returning home to the Highlands to give their teenage daughter the chance of a fresh start.
Director Luke Kernaghan said the production had certain responsibilities to be met.
"You want the Runrig fans to love it, but also you want to make sure the people who don't know the Runrig songs to really fall in love with the songs, the characters and story," he said.
Producer Margaret-Anne O'Donnell said the musical was "unapologetically joyful".
She said: "It is just the type of production to get people out to celebrate life, having a good laugh and a good cry.
"And what better subject matter to do it with than Runrig songs, which are just gorgeous narratives and little poems. They paint a picture of life and relationships, love and landscape."
Members of Runrig - songwriting brothers Calum and Rory Macdonald - have been to a rehearsal and director Kernaghan said the atmosphere had "crackled with excitement".
He added: "They were so respectful. They didn't want to step on our toes at all. But you could feel the electricity as they came in."
Cast members Malcolm Cumming and Annie Grace said there would be something for everyone within the musical.
Cumming said: "There are really punchy musical moments, sometimes with Gaelic songs. Hearing the language punch through like that is really exciting."
Grace said: "We haven't lost the essence of the songs. We have not messed with the melodies or words. We've kept them as they are, we've just put an extra dimension to them."
The show is a co-production between Eden Court and Raw Material and while it is being staged in Inverness, Kernaghan hopes it might eventually be performed elsewhere.
Runrig were founded in 1973, taking their name from a historic system of farming that was used for hundreds of years in the Highlands and Islands.
In 1991, the band played to 50,000 people at a music festival at Balloch Country Park on the shores of Loch Lomond.
And in 1995 the track An Ubhal as Airde reached number 18 in the UK charts.
Over the years,Runrig teamed up with some of the biggest names in the business, playing support to U2, The Rolling Stones, Rod Stewart and Genesis.