Recording Scotland's extreme high-altitude trees
By Steven McKenzie
BBC Scotland Highlands and Islands reporter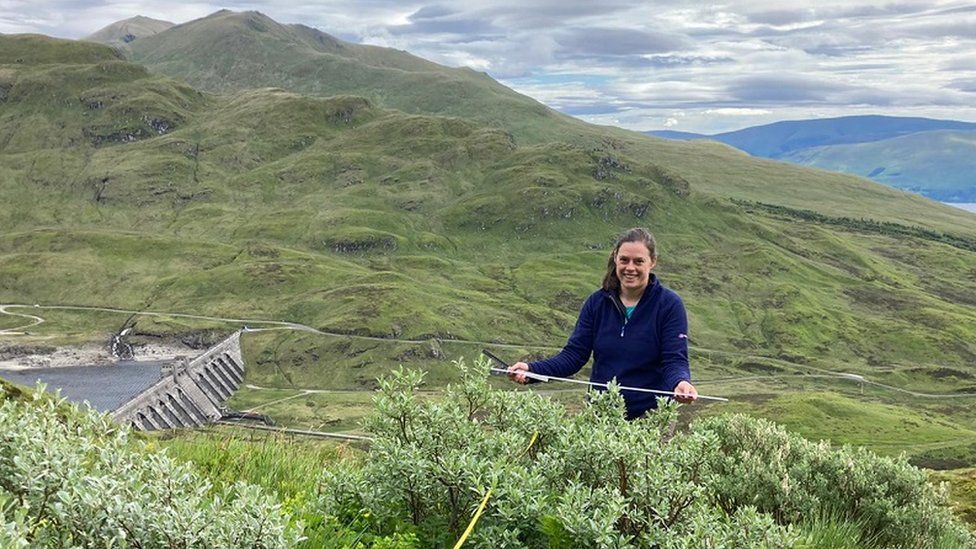 Scotland's hilltops were once a landscape full of woodlands but tree cover disappeared over thousands of years due to human activity.
Now researcher Sarah Watts is among those collecting information on where trees are taking root as part of her work on mountain woodland restoration.
"When we are talking about altitudes above 900m that is very, very extreme for a tree to grow," she says.
But she says trees have been found at heights of more than 1,000m (3,281ft) on some of Scotland's highest peaks.
The trees reach the mountains as seeds - often blown on winds or deposited in bird droppings after being eaten.
"It's a natural process," says Ms Watts - a PhD researcher based in the Highlands with the University of Stirling's Global Change Ecology research group.
"Native trees should be there if the seeds are managing to make it there and germinate and grow without intervention."
However, she says they are unlikely to ever reach maturity because the harsh conditions stunt their growth.
Ms Watts, who is also chairwoman of the Mountain Woodland Action Group, says she hopes hillwalkers and climbers will contact the MWAG with any high altitude tree sightings.
Top five high altitude trees in Scotland
These trees were recorded by experts or other visitors to the hills:
Scots pine at 1,160m (3,806ft) on Cairn Lochan, Cairngorms
Scots pine at 1,137m (3,730ft) on Fiacaill Ridge on Ben Macdui - the UK's second highest mountain
Rowan at 1,130m (3,707ft) on Sgurr nan Ceathreamhnan, Glen Affric
Scots pine at 1,100m (3,609ft) on Sgoran Dubh Mor, Cairngorms
Rowan at 1,093m (3,586ft) on Ben Macdui
A dwarf willow - a mountain specialist - has been recorded at more than 1,300m (4,265ft) on the summit plateau of Ben Nevis - the UK's highest mountain.
Sarah says it is classified as a willow species, but tends not be counted as a tree because it grows as a dwarf shrub barely more than a few centimetres above the ground.
Ms Watts is eager to see Scotland's mountain woodlands flourish once more.
These woods are believed to have occupied altitudes to 600m (1,968ft) or more on hills and mountains, above extensive lowland forests and below a mosaic of scattered shrubs higher up.
The decline began around Neolithic times, with trees cleared for agriculture or felled for use as building materials and charcoal.
There was a further loss of trees in the 18th Century as large-scale hill sheep farming and increasing deer densities resulted in overgrazing.
Ms Watts says: "We now have a situation where there is almost no altitudinal treeline left in Scotland and what little remains is restricted to inaccessible cliff ledges and ravines."
She says there needs to be a balance between sustainable grazing of large herbivores and tree regeneration.
"There are lots of benefits to mountain woodland," she says.
"It supports insects and birdlife and provides what are called ecosystem services like stabilising soil on steep slopes, reducing down-stream flooding and offering shelter to animals.
"These nature-based solutions will be hugely important for mitigating the impacts of more extreme weather due to climate change."