Scotland's fastest-flowing river 'devastated' by hydro schemes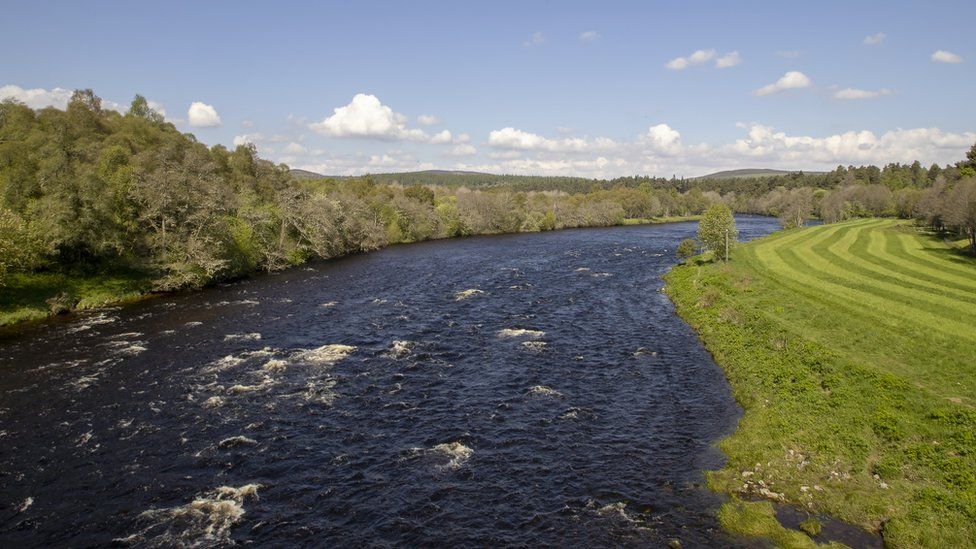 Hydro-electric schemes have had a "devastating impact" on a river dubbed the "fastest flowing in Scotland", it has been claimed.
The 109-mile (175km) Spey - Scotland's second longest river after the Tay - flows through the Highlands and Moray.
A Spey Fishery Board-commissioned study said too much water was being diverted away from the Spey for use in generating electricity.
It said water flow and levels on the river had dropped as a result.
Energy giant SSE Renewables, one of the UK's leading developers of hydro-electricity, said it prided itself in being "a responsible operator", and was working closely with regulators and fishery boards while generating "clean and flexible" hydro power.
The Spey is world-famous for its salmon fishing. Its reputation as the fastest flowing in Scotland applies to a section of the river downstream of Grantown-on-Spey where it descends markedly in altitude.
Spey Fishery Board (SFB), which manages the river's wild salmon and sea trout fisheries, said hydro, along with other land uses and a lack of snow melt, had affected water levels.
It said this had left the Spey, and its wildlife, at greater risk to the effects of climate change.
SFB has called on the Scottish government and Scottish Environment Protect Agency (Sepa) to enforce a reduction in the volume of water being diverted from the Spey's 1,158 sq mile (3,000 sq km) catchment area.
Both Sepa and the Scottish government said they were aware of the concerns about the Spey.
Water has been diverted to hydro-electric schemes in Lochaber and the Tay river system since the 1940s.
But SFB said the new research showed the renewable energy projects could significantly reduce the natural flow in the Spey - by up to 24% at Boat o' Brig, near Fochabers in Moray, and by up to a 61% at Kingussie in the Highlands.
The Spey's ability to store groundwater in its stony riverbed had also been badly affected due to low water levels, according to the study.
SFB director Roger Knight said: "It is now abundantly clear that the scale of water transferred out of the Spey valley to generate hydro-electricity is having a devastating impact on the river.
"It has denuded the groundwater storage supplies and has drastically reduced the Spey's ability to cope with hotter, drier summers which are predicted to occur more frequently under climate change."
He added: "It is crucial that licensed abstraction from our upper tributaries is reappraised and appropriately regulated to give this iconic river the sustainability it deserves as the reality of the climate emergency becomes apparent."
Sepa, the organisation responsible for issuing and reviewing licences to abstract water, said there were a number of projects ongoing to improve the availability of water.
It said abstractions were also under review.
A spokesman said: "It's likely that water levels in the Spey are being impacted by water scarcity, and in the latest water scarcity situation report, the Spey is at 'alert' level.
"During periods of water scarcity, we engage directly with operators that hold abstraction licenses to advise of the ongoing situation and ensure best practice is being followed to maximise water efficiency."
He added: "Due to climate change, extreme weather including water scarcity, as well as flooding, is likely to become more common."
The Scottish government said it would "carefully consider" the Spey Fishery Board's report and would respond "in due course".
A spokeswoman said a wild salmon strategy was being developed and an updated River Basin Management Plan was due to be published at the end of this year.
The plan will set out the government's aims and objectives to improve rivers to "good ecological status" by 2027.
The spokeswoman said: "This will include measures to improve water levels on the River Spey by reviewing abstractions for hydro power, and projects to improve fish passage through our Water Environment Fund."
An SSE Renewables spokesman said: "We work closely with our regulator, Sepa, and a range of stakeholders, including the district salmon fishery boards to ensure that we minimise our impact on the natural environment, while also maximising the generation of clean and flexible hydro power, which will be increasingly important in meeting Scotland's net-zero targets."