The massive green power projects stuck in limbo
By Steven McKenzie
BBC Scotland Highlands and Islands reporter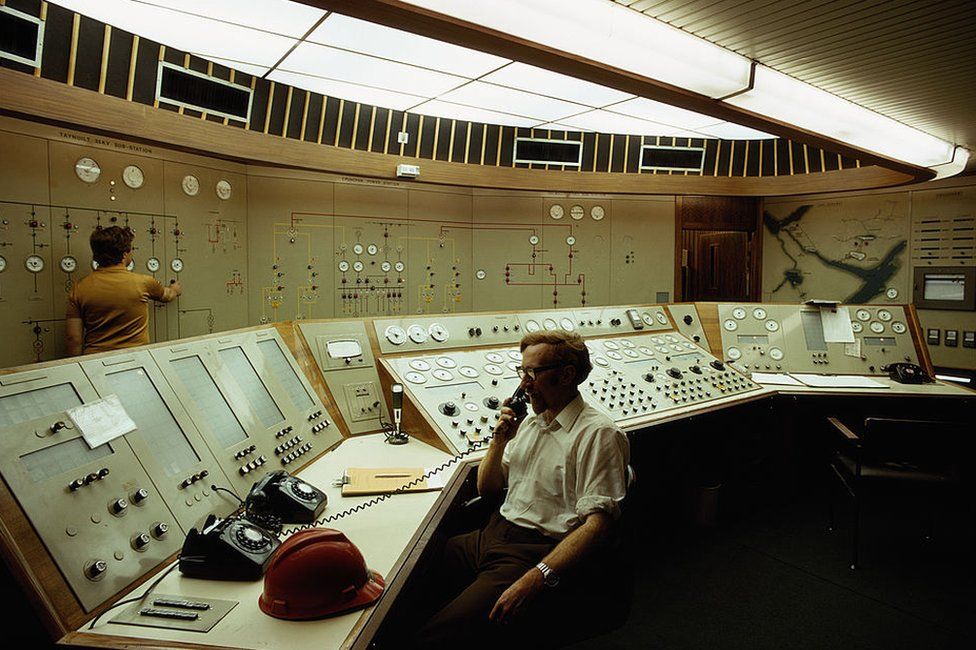 Pumped storage hydro schemes are renewable energy projects with the potential to help Scotland - and the rest of the UK - cut carbon emissions and hit climate change targets, according to developers.
Planning consent has been secured for new multi-million pound schemes in the Highlands and the south of Scotland, and permission is being sought to expand Argyll's Cruachan power station.
But it is decades since a new scheme has been constructed in the UK, and none of the projects have yet progressed beyond the planning stage. Why is building work on hold - and what are the prospects for the future?
What is pumped storage hydro?
The schemes involve two bodies of water at different heights. The water flows from one to the other through tunnels, passing through a power station inside a cavern which has been created by hollowing out part of the mountain.
When there is low demand for electricity from consumers and/or when surplus power is available from wind farms, electricity is used to pump water from the lower level to fill a reservoir further up the hill.
The water can then be released from the upper reservoir, flowing down the tunnels to drive turbines which generate hydro-electricity. This happens at times of high demand, or when there is not enough wind to power wind farms.
The UK has four existing pumped storage projects - Cruachan and Foyers in Scotland, and Dinorwig and Ffestiniog in Wales.
However, a large-scale pumped storage scheme has not been built in the UK for 30 years.
Why the wait for new schemes?
They are not cheap to build - costs can run to £500m and more. They also take a long time to construct - between five to eight years.
Developers argue the current energy market does not have the mechanisms to make such major projects attractive to investors.
Do we need pumped storage hydro?
Developers argue that we do, and both the UK and Scottish governments are in favour of the schemes.
Energy giant SSE Renewables says vast amounts of energy needs to be stored ready for when renewable schemes - such as wind farms - are struggling to cope with high demand, or the wind is simply just not blowing.
At the moment there is only 4GW of long duration pumped storage available.
There are other options for storing large amounts of energy, such as lithium-ion batteries and liquid and compressed air storage.
But while those alternatives can provide a rapid burst of power when needed, SSE Renewables argues pumped storage hydro also has to be part of the storage capacity as it offers a more cost-effective solution for when power is needed over longer periods of time.
Ian Innes, project director for SSE Renewables' planned Coire Glas project in the Highlands, said pumped storage hydro was a "proven technology" which was already playing a part in supplying electricity across the UK.
"However, a new large-scale scheme has not been built for decades even though more is needed to maintain and improve security of supply in the most cost effective way, particularly as more renewable generation is built to meet net zero by 2050," he says.
SSE Renewables wants the UK government and Ofgem to establish a framework which "appropriately values long duration storage technology and the role it will play in the net zero transition".
"This in turn will help attract investment into key projects like our 1.5GW Coire Glas project," adds Mr Innes.
Will Gardiner of Drax Group, which operates Cruachan, said: "Last year, the UK's lack of energy storage capacity meant wind farms had to be paid to turn off and we lost out on enough renewable power to supply a million homes.
"We need to stop renewable power from going to waste by storing it, and Drax is ready to move mountains to do just that."
Where are new projects planned?
SSE Renewables secured planning consent from the Scottish government last year for its 1,500MW Coire Glas scheme near Spean Bridge in Lochaber.
Once built, it would be largest pumped storage hydro scheme in 30 years, and have generating capacity to power three million homes for 24 hours non-stop.
Hamilton-based ILI Group's £550m 450MW Red John project is planned for near Dores on Loch Ness. The Scottish government granted it planning permission earlier this month.
Meanwhile, a buyer is being sought for a £250m scheme at a former opencast coal mine in the south of Scotland.
Drax Group has announced it is seeking planning permission to construct a new underground power station at its Cruachan site.
Nicknamed Hollow Mountain, the existing station is housed within a huge cavern dug out inside Ben Cruachan.
The new plans would more than double the facility's generating capacity to more than 1GW.
Drax Group said work to build the new power station - which would include excavating more than a million tonnes of rock - could start in 2024.
Is there light at the end of the tunnel?
The UK government says its Energy White Paper published last year included a commitment to support pumped storage hydro.
A spokeswoman said: "Electricity storage, including pumped hydro storage, has a key role to play in helping the UK end its contribution to climate change by 2050.
"We are making significant progress in ensuring this technology can enter the market, and compete fairly alongside other, more established forms of energy.
"As set out in our Energy White Paper, we will outline our next steps for removing barriers to the deployment of large scale and longer duration electricity storage shortly."
The Scottish government said it had long been supportive of pumped storage hydro.
Following planning permission for ILI Group's Red John project, Energy Secretary Michael Matheson said: "As we add more renewable electricity generation across Scotland, investing in pumped hydro storage will be key to balancing our electricity demand with supply and keeping the system secure, as well as creating high quality, green jobs and enabling a green recovery from the Covid-19 pandemic."