Hopes for record breeding season of rare hoverfly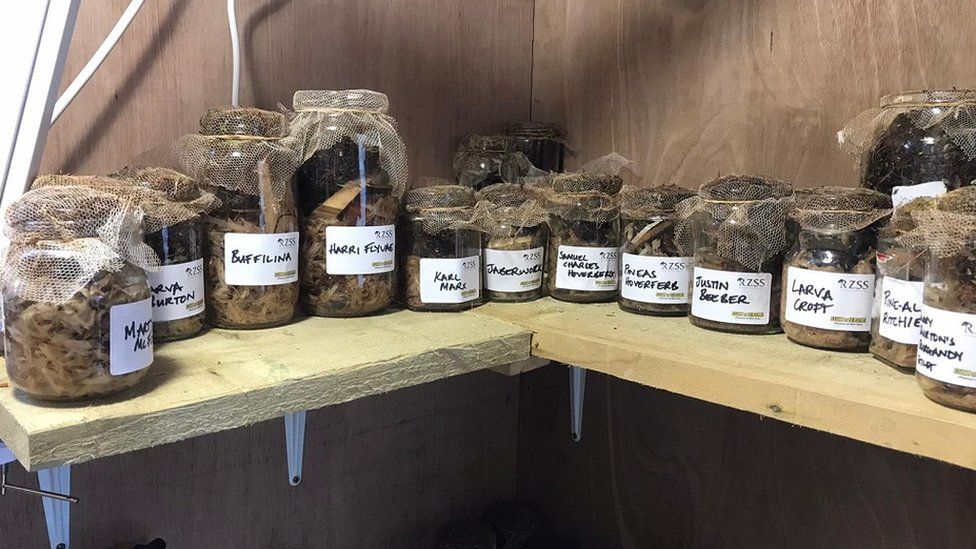 A Scottish captive breeding programme set up to boost numbers of a rare insect hopes to achieve a record-breaking season this year.
In Britain, the majority of pine hoverfly are only known to inhabit one small forest in the Cairngorms.
The last sighting of an adult in the wild was over eight years ago.
The Highland Wildlife Park has bred the flies since 2016 and this year a record 130 larvae have become pupae, a vital stage in them becoming adult flies.
In previous breeding cycles at the park, the most pine hoverfly larvae that pupated was 13. The flies will later be released into the wild.
Keepers at the Highland Wildlife Park - which is run by the Royal Zoological Society of Scotland (RZSS) - are helping with the breeding programme.
The park at Kincraig, near Aviemore, is best known for its polar bears and currently has two adult male bears and an adult female.
Hamish - the first polar bear cub to be born in the UK in 25 years - left the park for a new home at Yorkshire Wildlife Park in Doncaster last summer.
Some of the larvae have been given names by the public and include Larvae Croft - a play on the Tomb Raider video game character Lara Croft - and Justin Bee-ber after the singer songwriter Justin Bieber.
Dr Helen Taylor, conservation programme manager at RZSS said: "Every individual matters, so it is really exciting to have more larvae pupating than ever before and nerve-wracking to have to wait and see how many complete the full cycle, from egg, to larva, to pupa, to adult. "
She described the process the larvae go through as "extraordinary". Inside the pupa case, the animals are breaking most of their body down into "goo" and then "reassembling it to transition from a larva to an adult fly".
Dr Taylor added: "Invertebrates are a fundamentally understudied, underacknowledged and under-loved group of animals that fuel the food chain, pollinate plants and break down organic waste.
"They hold our ecosystems together, making them an important focus for conservation efforts. Without them, the world would be very different." 
In the wild, the larvae live in small holes that have rotted into old pine trees. There, they feed on a "nutritious soup" of bacteria.
To make the soup in captivity, keepers mix pine wood chippings from the flies' natural habitat with rain water.
The temperature of their breeding area has to be regularly checked and damp moss is used to plug the top of the jam jars.
The pine hoverfly conservation breeding programme is led by RZSS in collaboration with the Rare Invertebrates in the Cairngorms project, a partnership between the RSPB, Cairngorms National Park Authority, Buglife Scotland, Butterfly Conservation Scotland, and NatureScot.