Covid in Scotland: Barra and Vatersay to enter level 4 lockdown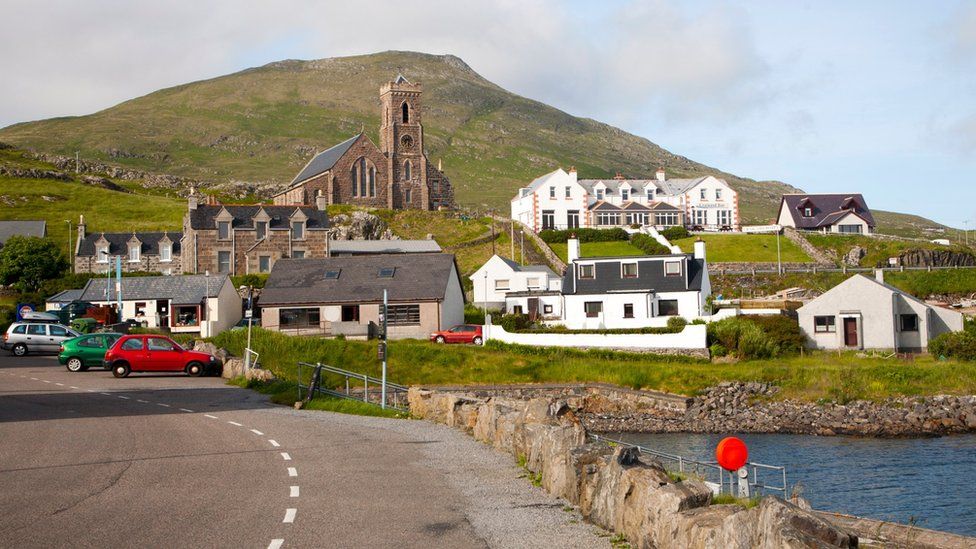 The islands of Barra and Vatersay will go into lockdown in an attempt to bring a Covid-19 outbreak under control.
They will move from level three to level four restrictions from midnight after 40 positive tests on Barra.
With about 140 people self-isolating, the outbreak has affected as much as 16% of the island's population.
First Minister Nicola Sturgeon told the Scottish Parliament that the rest of the Western Isles would remain in level three.
Islanders have been observing a voluntary lockdown on Barra in recent days as part of the community's efforts to supress the virus.
The islands of Barra and Vatersay, which are connected by a causeway, are home to 1,281 people. Cases related to the Barra outbreak have been rising in recent weeks.
Ms Sturgeon said: "There is a significant concern that without additional measures, the outbreak could spread more widely across the Western Isles.
"And there is also concern about the potential impact on care home and clinical services."
Residents will be asked to stay at home and to only leave for essential purposes.
The islands have been at level three since Boxing Day, when mainland Scotland and some other islands were placed in level four.
According to NHS Western Isles, the Barra outbreak has been linked to in-home socialising, which is not permitted under level three rules, and some travel to the mainland.
Chief executive Gordon Jamieson said it was "imperative to contain and supress" the virus.
Mr Jamieson said arrangements were in place to move anyone who fell seriously ill to hospitals in Stornoway in Lewis or on the mainland.
He said the Scottish Ambulance Service and, if necessary, the coastguard would be involved in the transferring of patients.
Three people have already been taken to hospital following the outbreak. Two have been receiving treatment in Stornoway and one at a mainland hospital.
Barra has a five-bed hospital in the same building as a small care home. Mr Jamieson said measures were in place to protect the site from the outbreak.
The chief executive added that Barra's close-knit community had offered support to anyone in need of help.
There has been a smaller outbreak of four cases on Benbecula, but the cases are not related to those on Barra.
The Benbecula cases include a member of the US defence services who had arrived on the island for a naval ballistic missile defence exercise at the Hebrides Range, a military rocket firing facility.
The US Missile Defence Agency said all US and UK Covid protocols were followed.