Two airlifted to hospital after mountain rescue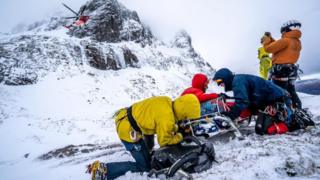 Two climbers have been rescued in separate incidents after one was caught up in an avalanche on Ben Nevis and another fell on a nearby mountain.
Lochaber Mountain Rescue Team said the avalanche happened on Wednesday afternoon in Number 5 Gully as the climber crossed the area.
The casualty was flown to Belford Hospital, suffering what rescuers described as a "nasty leg fracture".
A second climber was later rescued after falling on Aonach Mor.
Rescuers said they were halfway through the operation on Ben Nevis when the alarm was raised about the second climber, who had fallen in the area between the Aonach Mor and Carn Mor Dearg.
Lochaber MRT said the rescue helicopter was able to get in between the squalls on the mountain and lift the casualty directly out prior to transfer to the hospital.
The condition of the second casualty is unknown.
Ben Nevis' Number 5 Gully is the same area where an avalanche in March last year claimed the lives of three climbers - two Frenchmen aged 41 and 32, and a 43-year-old climber from Switzerland.
A 30-year-old climber from Switzerland was the sole survivor of the accident.
Lochaber MRT later helped relatives of those killed in the avalanche to visit the scene.
The Scottish Avalanche Information Service (SAIS) has recorded 110 avalanches so far this season - 87 in the past month and 14 in the last 48 hours. There were 124 recorded for the whole of last season.
This week avalanches have been recorded in areas including Lochaber, Northern Cairngorms and Creag Meagaidh.
Also on Wednesday, Lomond Mountain Rescue Team went to the aid of a walker who had injured a leg on Ben Lomond.
The walker was able to give the team their location and they were helped off the mountain in "worsening weather" conditions.