Stefan Sutherland: Sister's emotional plea for answers over death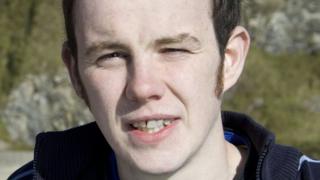 The sister of a man whose body was found on a Highland beach 11 days after he went missing has made an emotional appeal for answers about his death.
Stefan Sutherland died after vanishing from Lybster in 2013.
A team of 15 police officers has now arrived in the Caithness village to carry out fresh inquiries in the area.
Katrina Sutherland, who believes her 25-year-old brother's death was suspicious, said: "We would just like to find out what did happen to Stefan."
Mr Sutherland's disappearance on 6 September 2013 was followed by searches of the local area by police, search dogs and a mountain rescue team.
His body was discovered by a member of the public on the shoreline near Occumster near Lybster. Mr Sutherland had lived in the local area.
His family dispute that his death was accidental and say blood was found at a house he visited before he disappeared.
Police Scotland has previously said it would act on any new information in the case.
Ms Sutherland said the family still did not know what had happened to Stefan.
"At the moment police are still conducting inquiries. If that leads them to believe that foul play is a factor then I dare say they will turn it into a murder investigation.
"Nobody likes to believe that a family member was murdered, but it is something we've considered," she said.
'Happy and healthy'
Ms Sutherland described Police Scotland's review of the case as "the best news in six years".
She said: "The family believe he was a victim of foul play but we need to get to the bottom of that and be able to deal with it once and for all."
Mr Sutherland's parents Sandy and Sandra have welcomed the police's presence in the area, and the review of the circumstances of their son's death.
Mrs Sutherland said her son had been "happy and healthy" on the day he vanished.
"He didn't just disappear. Something happened to him," she added.
Police Scotland announced last year that "all aspects" of the initial investigation into Mr Sutherland's death would be examined.
They said the review was being done to address concerns raised by Mr Sutherland's family.
Detectives met the family in November last year and visited locations connected to the case.
'Let Stefan rest'
The team of officers has now begun door-to-door inquiries in Lybster and the nearby village of Latheronwheel.
Police have also urged anyone in the local community with information to come forward, and said a mobile police office would be parked in Lybster where people could speak to officers.
Ms Sutherland said her brother was never far from the family's thoughts.
She said: "It's like Stefan is still the most talked about member of our family and he is not there.
"What happened to Stefan? What do you think happened to Stefan? Will we ever find out what happened to Stefan?
"It's constantly there at the back of your mind. It's never far from your thoughts."
She added: "Somebody knows what happened to Stefan. Please, it's time to just put it to bed and let Stefan rest and let my family move on with their lives."
Det Supt Graeme Mackie, who is leading the review, said police wanted to establish if any local residents, or anyone who visited the area between the date of Stefan's disappearance and the discovery of his body, had information that might assist the inquiry.
He added: "Stefan was well known in the local community and I would also encourage those who saw him between 22:00 on Friday 6 September 2013 and 12:00 on Tuesday 17 September 2013 to contact us."