Vet disease surveillance posts to go across Scotland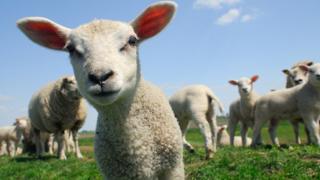 Jobs are to go at Scotland's Rural College (SRUC) sites as part of a major redesign of veterinary disease surveillance services.
SRUC has announced a "new model" aimed at "improving" the detection of diseases affecting livestock.
It confirmed the plans involved losing 35 posts across Scotland.
The laboratory and administrative roles at risk are at sites in Aberdeen, Ayr, Dumfries, Inverness, Perth, St Boswells and Thurso.
Post-mortem examinations on dead livestock forms part of work to monitor for and combat animal diseases in Scotland.
All forms of livestock production are involved, including dairy, beef and pig.
'Difficult decisions'
The new model follows a review of the Scottish government-funded farm animal disease surveillance services which recommended efficiencies and modernisation.
The set up of the services have been largely unchanged since the 1960s.
The redesign involves a new £1.6m SRUC Veterinary and Analytical Laboratory near Edinburgh.
Work previously done at sites in the Lothians and Inverness, Ayr and Perth would be carried out by new "hubs", partnerships of SRUC employees and local vets.
Those involved in the hubs might come together for a farm investigation, or work on a case by SRUC staff analysing samples taken by a local vet.
But the post-mortem facilities in Aberdeen, Dumfries and St Boswells would remain.
The post-mortem service in Thurso, which is managed in partnership with a local vet practice, would continue as well.
George Caldow, head of SRUC veterinary services, said the challenge had been to create a new model of disease surveillance within a reduced budget.
He said: "This led us to look at how we use technology and new approaches to improve efficiency and proactively look at improving animal production.
"This model will allow the expertise available within SRUC to be harnessed more effectively for the benefit of all livestock production in Scotland."
'Skewed reports'
Mr Caldow added: "The proposed new model has meant some difficult decisions about the closure of post-mortem facilities."
The union Prospect has expressed concern at the impact on its members, and has warned of the burden a reduced service would place on some farming communities already struggling with financial and other pressures.
Union spokesman Clive Davey said there was uncertainty over who would pay for the delivery of dead livestock for post-mortems carried out at facilities miles away from those currently available.
He said: "If a farmer has to pick up the cost and is already struggling then they are probably not going to send the animal in for post-mortem.
"Therefore we are not going to have accurate disease numbers within Scotland. You will get skewed reports."
NFU Scotland said disease surveillance was "critical" and described the loss of high quality jobs as disappointing.
But it welcomed the modernisation of the SRUC's services and plans for the new hubs.
NFU Scotland president Andrew McCornick said: "Greater collaboration and involvement of practicing vets has potential to greatly add to the surveillance landscape and strengthen the relationship between farmers and local vets."