'Dangerous' climb to vandalise Nairn Courthouse tower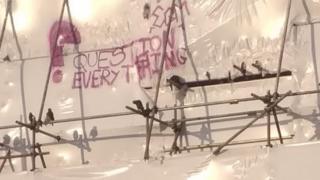 Graffiti was left high on a historic tower during a vandalism spree in a Highlands town.
Police said the culprits would have had to make a "highly dangerous" climb of scaffolding around Nairn's courthouse tower.
The tower's six-tonne metal top was removed last month as part of a refurbishment of the property.
Graffiti was sprayed on a protective plastic wrap on the tower and nearby properties were also vandalised.
Police said the vandalism happened at about 01:10 on Thursday.
Two men and a small silver car have been sought in connection with the incidents.
The men were described as being dressed in dark clothing, but one of the men changed into white overall-style trousers on the High Street.
Constable Kirsty MacDonald said: "The individuals responsible have gone to great lengths to scale scaffolding in order to deface the courthouse tower.
"This is highly dangerous and could have resulted in a serious injury.
"They scaled the scaffolding to such a height that specialist contractors had to be employed to cover the graffiti."
Highland Council, which is carrying out the tower refurbishment, alerted police to the vandalism.
A spokeswoman said: "Apart from the danger that someone must have put themselves in - graffiti is a total waste of taxpayers' money and diverts resources from council works and services."