Six Hial airports closed for air traffic controllers strike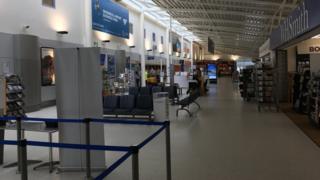 Six regional airports have come to the end of a 24-hour strike by air traffic controllers.
The affected airports were Benbecula, Dundee, Inverness, Kirkwall, Stornoway and Sumburgh.
The union Prospect has called for a staff pay rise of at least 10%, arguing that air traffic controllers in the private sector earn much more.
Hial, which is owned by the Scottish government, said it had to follow government pay policy.
The company said the travel plans of 6,000 people had been disrupted by the strike.
'An impossible ask'
Wick John O'Groats Airport had also expected to be affected by the strike, but Hial said it had made arrangements to keep the site open.
Barra, Campbeltown, Islay and Tiree airports also remained open on Thursday.
The controllers have been working to rule since the beginning of April.
Prospect agreed to suspend a strike planned for 26 April to allow for talks.
But the discussions, facilitated by the Advisory, Conciliation and Arbitration Service, broke down earlier this month and a strike date was set for Thursday.
Hial has said the controllers' wage demand "greatly exceeds" the policy, adding that the comparison with the private sector was "misleading and unrealistic" due to the different volume of air traffic movements.
Inglis Lyon, Hial managing director, told BBC Scotland: "I think Prospect is being unreasonable. Prospect has dug in and maintained their requirement for the 10% wage award against no justification.
"It's an impossible ask for any employer, Scottish government-sponsored or otherwise."
'Stop antagonising'
However, Prospect said the airports company should stop "antagonising" staff and focus on persuading the Scottish government to help resolve the dispute.
David Avery, of the union, said Hial had made one pay offer - a 2% increase - to its member and they had rejected it three times.
He told BBC Scotland that he did not know how long the dispute could "drag on" but that the current industrial action was scheduled to continue through to August.
Mr Avery said: "We wouldn't want to take action if we don't need to and we would still like ministers and Hial to come forward with a proposal to resolve this."
The Scottish government has urged both Prospect and Hial to return to talks.
Uisdean Robertson, chairman of the Western Isles Transport Committee, has called on the Scottish government to intervene in the dispute.
He said with high demand on the islands' ferry services the "last thing that was needed" was cancelled flights.
Mr Robertson said: "I think we have reached the stage now where the government needs to get involved.
"The sooner the whole issue is resolved the better."