'Hundreds' faced bullying at NHS Highland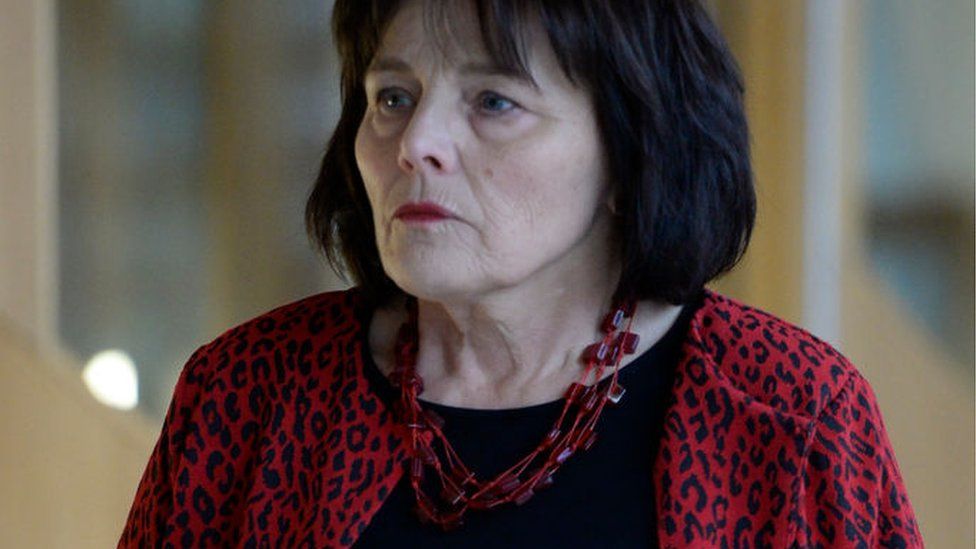 Hundreds of health workers have potentially experienced inappropriate behaviour at NHS Highland, an independent review has suggested.
The review led by John Sturrock QC said staff had described suffering "fear, intimidation and inappropriate behaviour at work".
Concerns raised by a group of clinicians prompted the review.
Health Secretary Jeane Freeman apologised and said other health boards should learn lessons.
At Holyrood, Ms Freeman said the culture at the health board had been unacceptable, and she supported the review's recommendations.
These include educating all staff on the effects of bullying and providing a "properly functioning, clear, safe and respected wholly independent and confidential whistleblowing" mechanism.
NHS Highland runs services in Argyll and Bute, and another recommendation was that a separate review be done of the "functioning of management" in this area, partly because of its geography.
Clinicians, including Dr Lorien Cameron-Ross and Dr Iain Kennedy, have been considering the contents of Mr Sturrock QC's report. They have thanked Ms Freeman for having the "courage and honesty" to commission the review.
NHS Highland said it would not tolerate unacceptable behaviour under any circumstances and was committed to ensuring that lessons were learned.
Amid the claims of bullying, the review said there were "thousands of well-motivated, caring and supportive people providing excellent caring services to thousands of patients in the area served by NHS Highland, often sacrificially and well beyond the call of duty".
26 September 2018: A group of senior clinicians at NHS Highland speak out about what they claim to be a culture of bullying at the health board. The doctors say that for at least a decade there has been a "practice of suppressing criticism, which emanates from the very top of the organisation"
2 October: NHS Highland seeks a resolution to the allegations through a meeting with the clinicians, but the doctors call for the matter to go to a public inquiry
5 November: Health Secretary Jeane Freeman requests an independent external investigation to examine allegations of bullying within NHS Highland
23 November: John Sturrock QC appointed to lead an independent review of the allegations
9 May 2019: Independent review report published
The review was contacted by 340 people from most departments, services and occupations at NHS Highland. More than 280 took part in face to face meetings or made written submissions.
The majority - 66% - reported experiences of what they described as bullying.
Staff said they had not felt valued, respected or supported in carrying out "very stressful work".
Others told of not being listened to when raising matters regarding patient safety concerns and decisions being made "behind closed doors".
The review also said that "many described a culture of fear and of protecting the organisation when issues are raised".
Ms Freeman said: "NHS Highland has very many very caring, supportive, diligent, highly skilled staff.
"But this extensive review has identified a number of significant cultural issues that have contributed to both actual and perceived behaviours in NHS Highland that have not always reflected those values."
She said the review had implications for health boards across Scotland.
The health secretary said: "I am well aware that concerns about bullying and a desire to secure a positive culture is shared across our health service."
NHS Highland's chief executive Iain Stewart said an action plan would be drawn up following careful consideration of the review's report.
He said: "I can assure you all that the response will itself be comprehensive and, over the coming weeks and months, NHS Highland will take whatever actions are required to ensure that its people are valued, respected and that their voices are heard.
"Already, it seems clear that the treatment of some staff within NHS Highland in the past has not always lived up to the high standards expected and, for that,
"I apologise on behalf of the board."
Lewis Morrison, chairman of BMA Scotland, said bullying was "completely unacceptable".
He praised the doctors who raised concerns as "brave" and said staff had to feel able to speak out about bullying without fear about consequences for their careers, but said there was still some way to go.
"This report absolutely has to be a catalyst for change," he said. "Clearly there are also lessons for the whole of Scotland.
"While there are aspects that are specific to NHS Highland, we are pleased that the Scottish government recognise this is not an isolated situation.
NHS Highland covers large area, that includes Skye, Caithness and Badenoch and Strathspey. Its main hospitals include Lorn and Islands Rural General Hospital in Oban, Belford Hospital in Fort William and Raigmore Hospital in Inverness.
His report had been expected to be published in February, but was delayed.
In April, Mr Stewart said it was right that time was taken on producing the report.
In the time since the allegations were made in September last year, there have been changes to the management of the health board.
Elaine Mead left the role of chief executive in December and David Alston resigned as chairman in February.