Baftas 2019: Mobile cinema operator wins new honour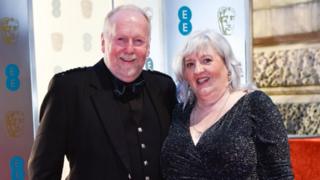 The senior operator of a mobile cinema has shared a new prize that was presented at Sunday's Bafta Awards.
Iain MacColl has been involved with the Screen Machine, which is owned by not-for-profit company Regional Screen Scotland, since it was started in 1998.
The cinema is the UK's only full-time, self-contained mobile film venue and tours the Highlands and Islands,
Mr MacColl's work with the Screen Machine earned him the For The Love of Film award.
He won it jointly with Dan Ellis, the founder and managing director of Jam Jar Cinema in Whitley Bay, Newcastle.
As well as taking the Screen Machine to small communities across the Highlands and Islands, Mr MacColl has taken the cinema to Bosnia twice to entertain British troops deployed to former Yugoslavia.
He said: "It is amazing to see the work of the Screen Machine being recognised by Bafta, and all the hard work that not just myself, but everyone at Screen Machine has put in over the last 21 years."
Robert Livingston, director of Regional Screen Scotland, said: "It's no exaggeration to say that, without his dedication, this lifeline service wouldn't exist today."
Andrew Orr, of the Bafta film committee, said Mr MacColl had stood out due to his long service and the wide-reaching impact of Screen Machine.