Highlands dwarf birch added to Kew's Millennium Seed Bank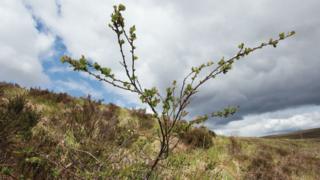 Seeds have been collected from dwarf birch trees near Loch Ness as part of the UK National Tree Seed Project.
They will be stored in the underground vaults of the Royal Botanic Gardens Kew's Millennium Seed Bank.
The project is part of a conservation effort to protect UK trees and woodlands from pests and diseases.
Dwarf birch seeds were collected from the Dundreggan Conservation Estate in Glenmoriston, which is owned and managed by Moray-based Trees for Life.
The charity said dwarf birch were part of a group of plants that grow in areas above 300m (984ft) in the Scottish hills.
It is a small tree that grows no more than a metre tall.
Emma Beckinsale, Trees for Life's nursery assistant, said: "We collected seed from over 50 plants.
"Because dwarf birch is a small, low growing tree it is always at risk of overgrazing by deer and sheep, so we are delighted that we can contribute to the conservation of this species both locally, and globally through the Millennium Seed Bank."