CairnGorm Mountain company placed into administration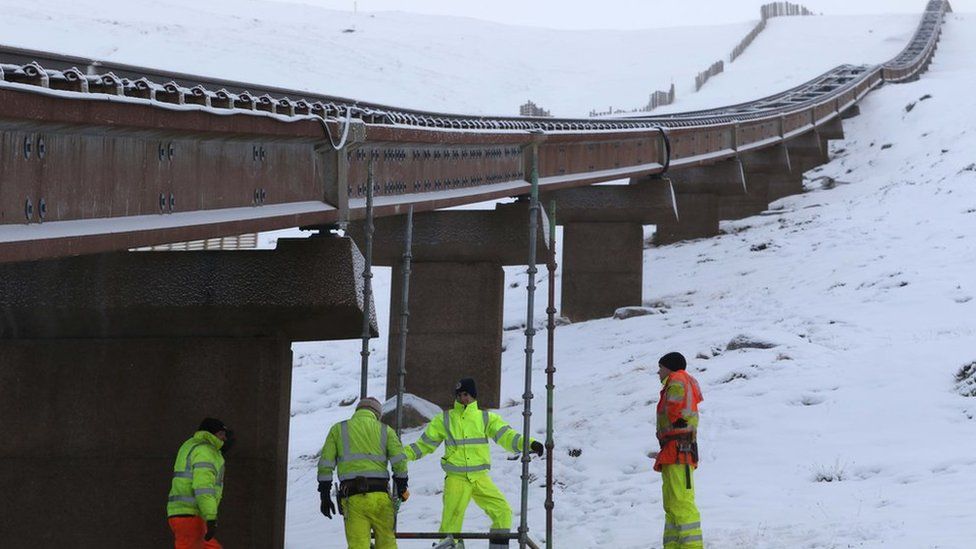 The company which operates the CairnGorm Mountain Funicular Railway and snowsports centre has been placed into administration.
The administrators said they would continue to trade in the hope of selling the business and assets as a going concern.
They said there were no immediate plans to make any redundancies at the company, which employs about 70 people.
A structural problem shut the funicular in September.
Joint administrators Blair Milne and Derek Forsyth, of Campbell Dallas, said CairnGorm Mountain Limited (CML) had faced "unsustainable cash-flow problems".
The snowsports centre and funicular are owned by Highlands and Islands Enterprise (HIE) and operated on its behalf under a 25-year lease by CML, which is part of leisure and travel company Natural Retreats.
Mr Milne said the extended closure of the funicular railway meant the company had become "unsustainably loss-making".
"The directors of the business had been in discussions to try to find suitable solutions, including a managed transfer of the business to another party. However those negotiations did not progress.
"Under mounting cash flow and creditor pressures the directors were left with no alternative other than to place the business into administration.
"The joint administrators will be seeking to achieve a sale of the remaining business on a going concern basis as early as possible."
In a statement, Natural Retreats said: "This is a sad day for CairnGorm Mountain.
"When we took over CairnGorm Mountain five years ago, we could see a real potential to create something really special.
"That potential is still there, but regrettably, it won't be us leading that journey. We would like to thank all of our loyal, incredible staff who have continued to work tirelessly in difficult circumstances."
The funicular, which was built at a cost of £26m, opened in 2001. It carries about 300,000 visitors each year,
Specialist engineers have been carrying out a detailed structural assessment since the railway closed on 1 October.
Although they had been expected to report at the start of December, they postponed publication by "up to two weeks", citing problems they encountered in carrying out tests because of high winds and extreme cold.
Tourism businesses in the area have already expressed concern about a prolonged closure affecting access for winter sports activities.
HIE had said last month it was seeking an early resolution of the problem.
Chief executive Charlotte Wright said: "Our first priority is staff members and their families, as well as other local people who will be affected by this decision.
"We are already in direct contact with the administrator, and confident that CairnGorm will remain open for business.
"Clearly, this is not the outcome that anyone wanted when CML became the operator. However, with local support, we are confident that the situation can be turned around and we will see Cairngorm flourish again as a fantastic asset for this area, its economy and its people."
'Critically important asset'
Mike Dearman, a director of Aviemore and Glenmore Community Trust, which was set up to prepare a community buyout of CairnGorm Mountain, said the situation offered a chance to "reboot" the site.
He said: "There is huge passion for that hill that a lot of people in winter are reliant on. We are excited that we may once again have control over it."
Highlands and Islands Labour MSP Rhoda Grant said it was important for the local economy that the resort was open for business.
Kate Forbes, SNP MSP for Skye, Lochaber and Badenoch, said the immediate priority was to support the employees.
She added: "CairnGorm Mountain is a critically important asset for the Highland economy and we want to see snowsports there this winter and many more winters to come."
CairnGorm Mountain: Challenges and opportunities
Situated high in the Cairngorms near Aviemore, CairnGorm Mountain and its funicular railway has been owned by the public agency Highlands and Islands Enterprise since 2008.
In 2010, HIE was criticised by MSPs for failures which led to spiralling construction and running costs of the railway.
HIE provided £19.42m towards the £26m cost of the funicular, which opened in 2001.
Wilmslow-headquartered Natural Retreats bid for and won a 25-year lease to operate CairnGorm Mountain in 2014. The company has been running the site through the business CairnGorm Mountain Ltd.
The following year, Natural Retreats began consulting on a planned, estimated £15m revamp of the centre.
However, over the years it has been criticised for how it has run the snowsports centre, including for a decision to remove ski tows from an area called the Ciste.
Last year, Aviemore Business Association announced a proposal to mount a community buyout of CairnGorm Mountain. This effort is now being led by Aviemore and Glenmore Community Trust.
This year has seen a structural problem shutdown the funicular, and the publication of a vision that included adding new ski tows and mountain rollercoaster ride. HIE said realising the ambitions set out in the vision would require £27m investment.
Related Internet Links
The BBC is not responsible for the content of external sites.