First phase of £1m Braighe coastal path project begins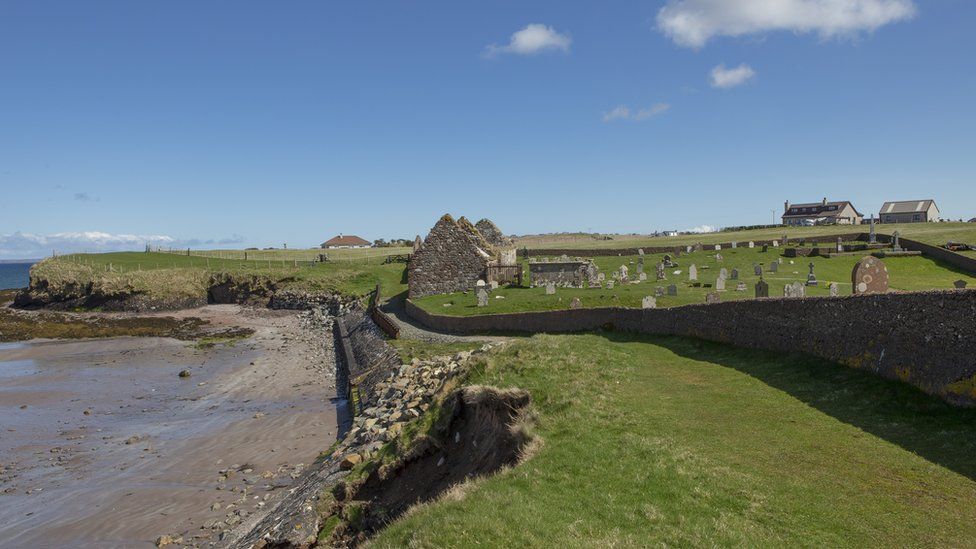 The first phase of a £1m project to develop a coastal path around the Isle of Lewis has begun.
The initial work started in Braighe and will see the development of a 40km (25mile) path running from Stornoway all around the the Point peninsula.
Northerly storms have been a problem for the medieval Ui Church's graveyard wall and cliff edge, which have been under threat from erosion.
A large hole in the sea wall will be repaired to help combat erosion.
This first stage will secure 100m (328ft) of coastline and the graveyard wall, and will cost £114,000. Some of that was European funding while the remainder came from the Joint Project Fund and other Trusts.
Representatives of the Point and Sandwick Coastal Community Path (PSCCP) committee said they were delighted to see the work get under way.
PSCCP is a registered charity first formed in 2016, for the purpose of developing the Lewis coastline, and it plans to create a circular community path right around the peninsula.
The wall of the Ui Church was reinforced in 2015 to help secure it. The trust did not have the money for future work and was unable to protect the churchyard wall which has now been eroded.
Liz Chaplin, Ui Church Trust secretary, said: "We are absolutely delighted the Point and Sandwick Coastal Path group have taken the lead on this, have done the design work, all the engineering work and crucially have got the funding from the Stornoway Trust, Point and Sandwick Trust and Leader [European funding].
"We're so grateful the work is happening now because another winter could have been the end. The cliff could have collapsed completely and then the path would go and the graveyard wall could slip into the sea."
Mrs Chaplin said the graveyard was of sociological and emotional importance, as there were a lot of people buried there, including Colonel Colin MacKenzie, the surveyor general of India.
The development of the costal path is likely to be spilt into five phases, and fundraising for the next phase is expected to start soon.
Colin Scott Mackenzie, honorary president of Ui Church Trust said: "We are terribly grateful to the Point and Sandwick coastal path committee and the Point and Sandwick Trust and we mustn't forget Stornoway Trust without whose consent it would all have been extremely difficult."