'Dad, what's that and can we climb it?'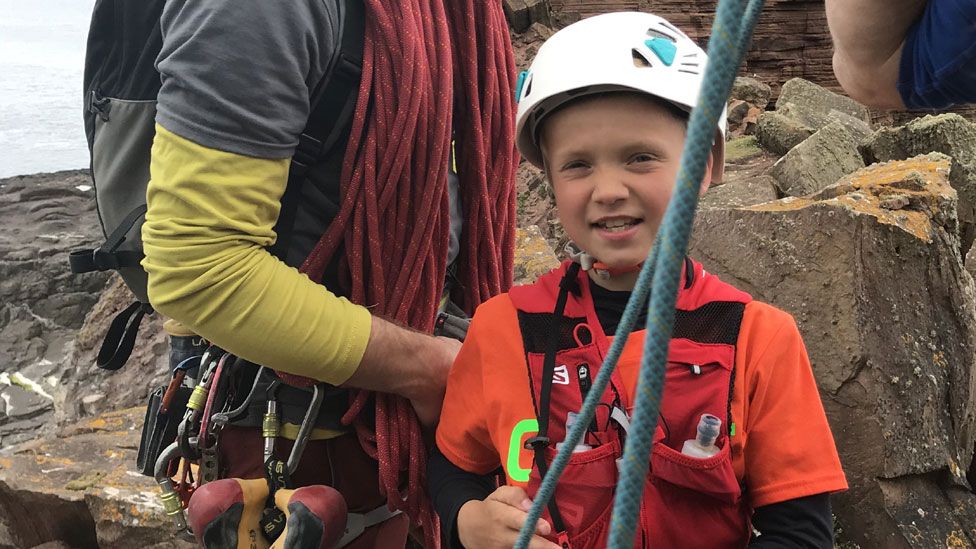 The father of the youngest person to climb Orkney's Old Man of Hoy sea stack has spoken of his son's bravery.
His mum, Bekki Christian, had terminal breast cancer. She died in August.
Her partner Nathan Mills said: "Bekki was very brave. How she carried herself all the way through her cancer and treatment, I can see that in Edward."
Edward's six-hour climb up the 450ft (140m) column of rock has raised more than £37,000, and won him the young fundraiser of the year honour at this year's Pride of Britain awards.
Seeing the Old Man of Hoy from the road they were on, he said: "When we were driving to go into Thurso I saw this rock sticking up and I said: 'What's that Dad?'.
"He said it was a big sea stack and I said: 'Can we go and climb that?'"
Nathan said his first response to the question was: "We will have a think about it. Maybe."
Edward has been climbing since he was two years old and was a member of a climbing club in Gloucestershire, before he and his family moved to Caithness.
He now competes in a youth climbing series and is a member of Scotland's national climbing squad.
Supported by other climbers, Edward completed his ascent of the Old Man of Hoy. His mum watched from a ferry, which sounded its horn when her son reached the top.
In a book, which is kept safe in a box at the top of the Old Man of Hoy and records the names of those who climb the sea stack, Edward wrote: "I am eight years old and I climbed this for my Mum."
Nathan said the emotions he felt for his son as he climbed the stack included fear.
He said: "My toes were curling in my shoes watching him go up there and I sure her's (Bekki) were exactly the same.
"For a little boy to have the courage and the ability to do it and to just keep going is incredible."
Nathan said his son drew on the same strength in dealing with Bekki's cancer.
He said: "We talked about it all the time. We were completely open about what was going on."
After being told in February that Bekki might only have a couple of months to live, the family went on a week-long holiday in Orkney.
Nathan said: "We swam in the sea, and we had that discussion about where we were.
"We though that might be the last holiday that we have, but as it happens we were very lucky.
"She bravely carried on right to the end of August, so we had a wonderful summer together."