Scots suffragette hunger striker remembered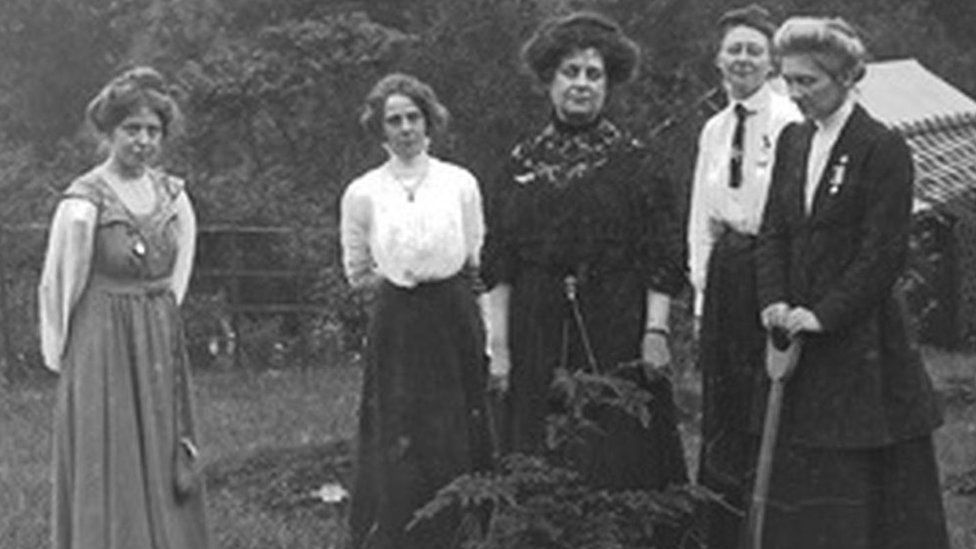 Scotswomen who campaigned for the right to vote 100 years ago have been remembered as part of UK Parliament Week at Westminster.
Inverness-born Marion Wallace Dunlop was a key member of the Women's Social and Political Union (WSPU), and the first suffragette hunger striker.
The actions of Glasgow's Margaret Farquharson and Margaret McCoubrey have also been recalled as part of the week.
All three were involved in protests at Westminster.
Held annually, this year's parliament week forms part of the UK Parliament's Vote 100 programme. The festival started on Monday and ends on Sunday.
The story of Ms Wallace Dunlop has been highlighted as part of the festival.
Born at Inverness' Leys Castle, she became a WSPU member in 1908.
She was arrested in June the following year after using a rubber stamp to print the words "Votes for Women" on a wall of St Stephen's Hall at the House of Commons.
Ms Wallace Dunlop was jailed at Holloway Prison, but later released after going on hunger strike for 91 hours.
In 1928, she was a pallbearer at the funeral of the leading suffragette Emmeline Pankhurst.
University of Glasgow graduate Ms Farquharson was president of the Scottish University Women's Suffrage Union in 1909, secretary of the National Political League in 1913 and was an active member of the Women's Freedom League.
She was involved in a Women's Freedom League demonstration at Westminster in February 1909.
Ms McCoubrey was active in the suffrage movement in her husband's home city of Belfast. She joined the WSPU in 1910.
She was involved in a protest in June 1914 which saw her and others demand an audience with the prime minister, Herbert Henry Asquith.