Karen Gillan returns home with new film about suicide
By Gerald Lennon
BBC Scotland News website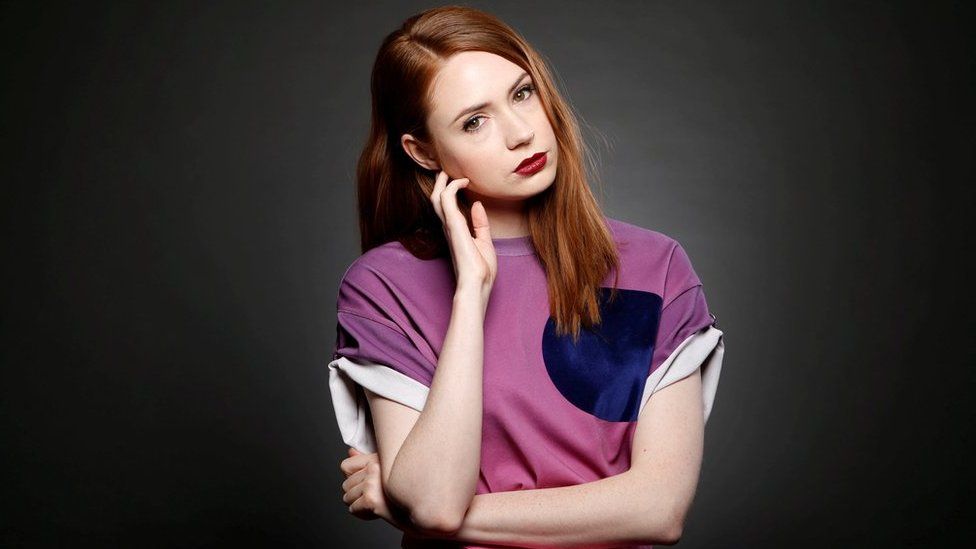 Returning home with her latest movie has been one of the most nerve-wracking and personal journeys for Hollywood star Karen Gillan.
Gillan was back in Inverness last week with her directorial debut, which tackles the sensitive issue of suicide in the Highlands.
She brought with her a plea for people to "start talking" to help save lives.
The Party's Just Beginning, which the actress also wrote and starred in, is about a woman from Inverness who turns to alcohol and drugs as she struggles to cope with the suicide of her best friend.
Gillan said the idea came to her when she read that suicide rates were higher in young men in the Highlands than any other part of Scotland.
Although Gillan had already screened the movie for audiences in Philadelphia, Glasgow and Moscow, she said a showing at the Inverness Film Festival was the most nervous she had felt showing the film to an audience.
Gillan said being back in the Highlands with the screening was an "incredibly special night". She added: "This is the first time I'm showing the film, which was made in Inverness, to an Invernessian audience.
"I'm more nervous for this screening than any of the screenings I've done around the world.
"I hope that I've done the Invernessian people proud, and I hope that I've portrayed the place in a way that they approve of."
Shot on location in the Highlands and taking only three weeks to film, Gillan said it was one of the shortest but most intimate projects she had worked on.
The former Doctor Who companion said she hoped the film would start a conversation about the high suicide rates in the Highlands.
She added: "Its really important that we start talking about this and raise awareness. Because this is something that needs to be talked about and I think the more freely it's talked about, the more people would feel comfortable to talk about the emotional states that they're in.
"Communication is key, you might not feel like you have anyone to talk to but you always do. You can reach out to anyone in your life or there are help lines you can call."
The Guardians of the Galaxy actress said that although the movie tackles the serious topic of suicide, she chose to include humour as it was true to how people in the Highlands are.
She added: "It's a very dark subject matter, so I definitely tried to make that story as authentic as possible. I wanted to portray Inverness in a way we haven't seen before.
"Something that is authentically Scottish is cracking jokes and laughing in the face of adversity, that's something we all do quite a lot and I wanted the genre of the film to feel Scottish."
Ron Williamson, the co-founder of Inverness charity Mikeysline, welcomed the focus Gillan's film has brought and spoke about suicide and depression in the Highlands.
Mr Williamson said: "The Highlands have the highest rate per head of capita in the whole of the UK for suicide in young people under the age of 45.
"Raising awareness of suicide, depression and mental illness has become more and more important.
"We've got people in the film industry, television, we have entertainers we have sports people all coming out now and admitting and confessing to things that 12 years ago it would have been an admission, it would have been a confession... now it's just a simple fact."
Mikeysline is a charity that aims to help young people who are dealing with depression and suicidal thoughts. It was founded three years ago after the sudden deaths of two friends, both of whom were from Inverness.
The charity released 20,000 beer mats on Friday, which have been given to licensed premises throughout the north and north east, with a message displayed on them which reads "Is there a mate missing around this table... have you checked they're ok?"
Mr Williamson added: "We also know when our friend really isn't fine. We're not all doctors, we're not all psychiatrists, but we all do know our friends.
"Unusual behaviour of any kind, that can suddenly be someone who's down all the time and conversely that can be someone who's down for a few weeks who's suddenly elated. Spotting those signs is the way to help."
Mr Williamson said the problem is getting people to talk about their feelings and he hopes the new campaign will start a conversation about mental health and encourage others to reach out to their friends and family.
And on the need to get people talking, Gillan said she found the showing of her film in different countries had underlined how universal this story is. "Its not specific to Scotland... people are connecting with it and it's very moving to see that," she added.
"I think a lot of men don't think they can open up about their emotions and I really hope that maybe this film might help them do that. Again, communication really is key and this is a universal problem.
"It's not specific to the Highlands of Scotland, I think it happens in a lot more rural areas where people might have a sense of isolation and that's something we wanted to address through the movie."