The young men of the Highlands and Islands lost to WW1
By Gerald Lennon
BBC Scotland News website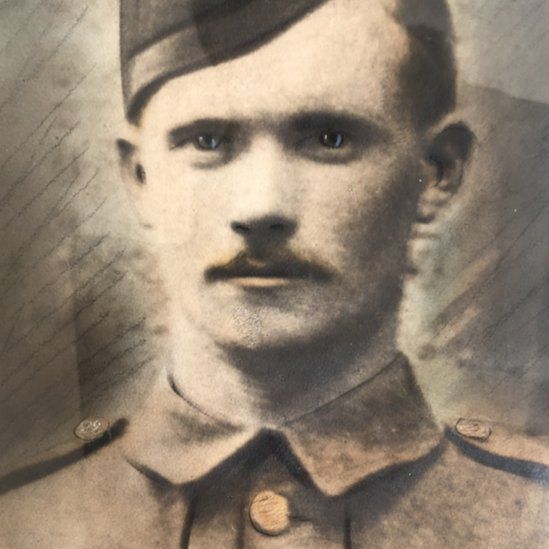 When war was declared in 1914, Skye, like all communities in the Highlands and Islands of Scotland, made an extraordinary sacrifice, as young men were sent to war in droves.
The death toll of Scots in World War One has been a subject of controversy, with many claiming that Scotland suffered disproportionately greater casualties compared with other parts of the UK.
Within Scotland itself, the Highlands and Islands was an area which experienced one of the greatest casualty rates.
The war memorials in Skye and Lochalsh carry the names of almost 500 men who died during the conflict, many coming from crofting and farming backgrounds.
Murdo Beaton, a former teacher and WW1 researcher, says that a "tsunami of patriotism" swept across the whole country before war was declared, one of the many reasons young men volunteered to go off to war.
Murdo said: "Eloquent and impassioned sermons extolling the virtues of patriotism and doing one's duty were preached from the pulpits of practically every denomination. But the main reason why they went was purely economic."
Lives of the ordinary crofter and fisherman in the Highlands and Islands at that time could be marked by grinding hard work, abject poverty and difficult living conditions.
Murdo added: "It was a great attraction for these young men, to go off for a fortnight every summer to a training camp.
"That was to them like a free holiday. Unfortunately when war broke out, it meant that they were immediately called up and they just had to go."
Young men from Skye and Kingussie, who were such intense rivals on the shinty field, went off to war together, trained at the same barracks together and fought and died in The Battle of Festubert, May 1915.
Murdo said: "The Skye Territorials and the Kingussie Territorials fought side-by-side at Festubert and while before the war they were opponents on the shinty field, at Festubert they stood shoulder-to-shoulder and they died there together."
John McFarlane was killed in the Battle of Festubert in May 1915, his name is listed on the Le Touret Memorial to the missing near Festubert.
He is the youngest casualty on the Portree memorial, being 18-years-old when he went off to war. His father, the local stonemason, built the Portree Memorial in honour of the Highland men who were killed in action.
Murdo said: "One can only try to imagine the thoughts that went through that man's head as he was building it, knowing his son's name was to be among those listed on it."
There is a war memorial placed in the square of Portree, which has 101 causalities listed on it from many communities in the Highlands, including Portree, Braes, Sconser and South Snizort.
Another young man who went off to war was Donald Angus Shaw from Toe, who joined the Royal Scots Fusiliers.
He went to Portree to enlist, as he was the oldest of eight in the family, was exempt, and stayed home to look after the croft.
His niece, Mary Anne MacFarlane, believes her uncle felt guilty about staying behind and leaving his countrymen to go off to war, so he returned to enlist again. Donald was 25 years old when he lost his life in Arras in 1917, on 11 April 1917, one year later.
The croft was left to the women in his family to manage, like many people back then, the old men and women managed the croft and fishing boats while the young men were away.
Mary said: "The women worked very hard as well. Bringing up their children, they were out milking the cows, doing all the work they now had to do.
"Well some young mothers were widowed very young and had to bring up their children on their own, which was not easy. There were no cars in those days so they had to walk everywhere.
"It made the women stronger and more resilient to cope with all the hard knocks that life would throw at them."
Mary says for the people awaiting news of their loved ones must have been dreadful. Usually a telegram would arrive to tell the sad news if anyone was killed in action. Donald's last letter arrived a month before his death, he had sent a postcard to his younger sister.
Donald's medals went missing a number of years after the war was over. For a long time his family thought they were missing for good.
Three years ago, Mary's sister Flora contacted a man on eBay who collected war time medals and had come across Donald's medal. Using eBay the family were able to get the medal back.
Mary said she was "so delighted" to find it. "It came back to the family," she added.
On the evening of Monday 17 May, 1915, the 4th Camerons received orders to take 500yds of the German trench line
Despite appalling conditions, they succeeded in taking the German trench
British causalities at Festubert numbered at 16,000 and Germans loses totalled 5,000 men
Historians believe more Highlanders were killed at Festubert than at Culloden
Murdo says he is also struck by the fact that the cemeteries which contain the men who lost their lives during the war are beautifully kept, but are quite unnatural cemeteries.
He added: "There are no women and no old people. They are exclusively and entirely young men. Many of the women at home who lost their husbands never remarried again.
"Most of these young men were too young to be married so their genetic lines came to an abrupt stop at that particular point.
"I often wonder what talents we lost because children from that genetic line were just never born."