Marine Scotland 'bullying' review concluded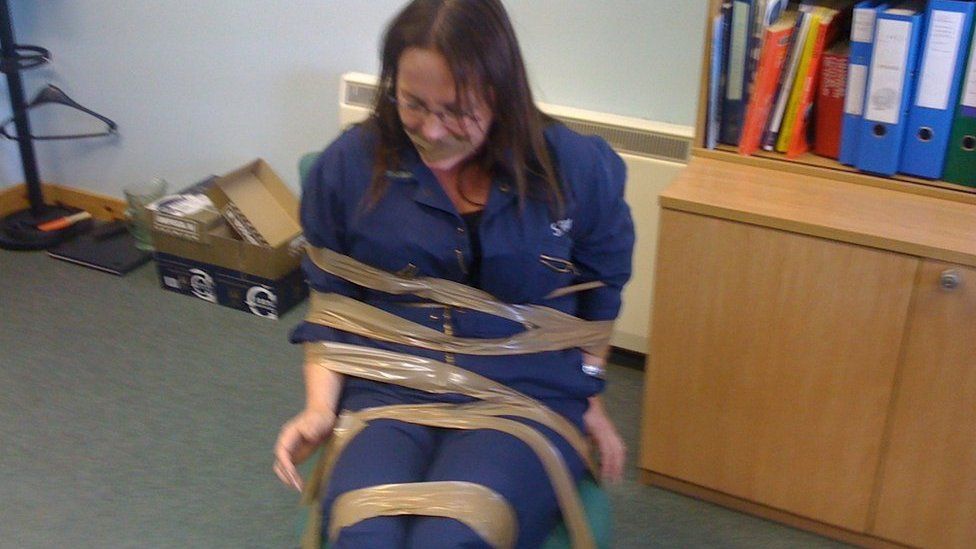 The official Scottish government review into Marine Scotland after a "whistleblower's" claims of sexism and bullying has been concluded.
The review was ordered after a picture was released of fisheries officer DeeAnn Fitzpatrick taped to a chair and gagged.
Ms Fitzpatrick said the restraint took place amid years of harassment at Marine Scotland's Scrabster office.
The government said the events were "completely unacceptable".
Leslie Evans, permanent secretary to the Scottish government, said: "A comprehensive internal review has now concluded.
"The Scottish government has robust disciplinary procedures to address behaviour that falls below expected standards and I am satisfied that these have been followed thoroughly and objectively in relation to this incident.
"A broad set of actions are under way in Marine Scotland to ensure a working environment which meets both the Civil Service Code and Scottish Government Standards of Behaviour.
"I do not normally comment publicly on staffing matters but I am issuing this short statement to update the public record given the previous parliamentary and wider interest in this issue.
"My unwavering commitment to ensuring a positive workplace for all employees in the Scottish Government remains."
An employment tribunal ruled against Ms Fitzpatrick's claim of harassment by colleagues.
The "taping and gagging" incident was not considered as it was said to have happened more than three years before the complaint was brought.