Engineers use drone to help connect remote home to broadband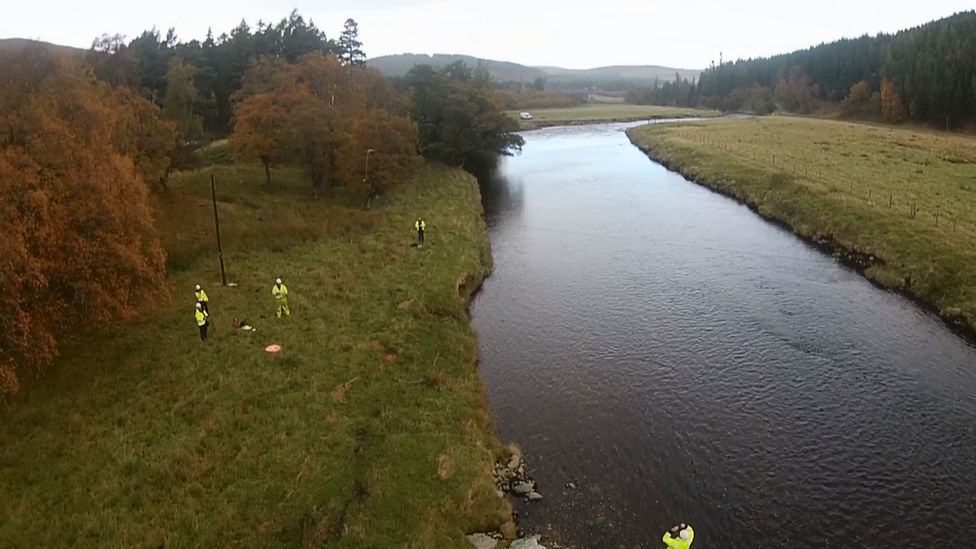 A drone has been used to fly fibre broadband across a Highland river to connect one property to the network.
Openreach used the unorthodox technique of hitching the cable to the drone to reach the remote home.
The crossing is part of a project to help offer ultrafast broadband services for residents in Glenmazeran, near Inverness.
About 37 homes can now access services, with more properties expected to to be connected later this month.
A 10km armoured cable was buried along the River Findhorn but then had to make a river crossing to reach one of the properties.
In the past the team tried attaching cables to fishing lines, golf balls and even hammers, but these techniques were mostly unsuccessful.
Openreach's chief engineer for the North of Scotland Kevin Drain said: "Although Glenmazeran is only 20 miles from Inverness, the properties are very remote and scattered.
"We've had to contend with steep drops and bankings as we buried cable along the single-track road.
"But the biggest challenge was reaching one remote home, 400m away from the main route, where the fibre cable needed to span a 50m wide stretch of river.
"This is the first time we've used a drone to drop fibre into place here in Scotland and as a delivery method it's unbeatable."
The engineers completed a week's training to become certified by the Civil Aviation Authority in order to fly the drone for commercial purposes.
The Scottish Openreach team is one of only five in the UK now approved to fly drones.
The Glenmazeran project is co-funded by residents, who have helped to dig in the final lengths of cable which travel from the new fibre spine to their properties.