Stroke survivor: 'Walking up stairs will be a dream come true'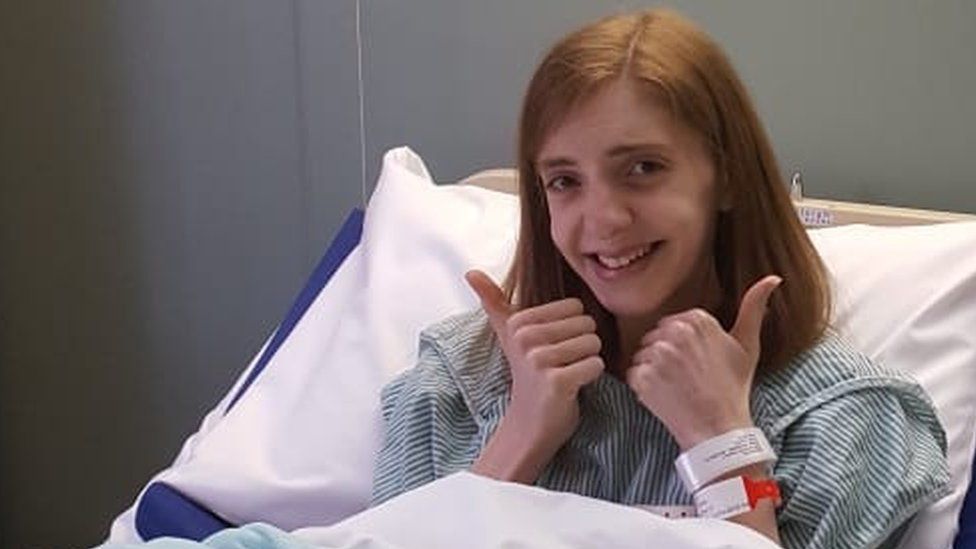 A 27-year-old woman has told of her determination to recover from a rare type of stroke that is believed to affect only 300 people in the world.
Emmy Macnicol, from Strathpeffer, in the Highlands, had a medullary infarction following brain surgery on the eve of her 25th birthday.
Two years on, she is learning to walk again and has resumed her studies.
She said to be able to walk up a set of stairs again would be "a dream come true".
Emmy, who requires the use of a wheelchair for anything further than a short walk, has vagoglossopharyngeal neuralgia - a rare neurological condition.
She required specialist, emergency surgery at a hospital in Bristol because of the brain condition. She suffered a massive stroke after coming out of theatre.
Ms Macnicol told BBC Radio Scotland's Mornings with Kaye Adams programme: "I woke up in intensive care on my 25th birthday.
"The first few hours after waking up are blurry. The first thing I do remember is not being able to move. I could not sit up in bed. I was completely immobilised.
She added: "The type of stroke I had affects only 1% of stroke survivors worldwide.
"My neurosurgeon, who is my hero, told me that with intensive physiotherapy there was scope for me to regain some function back.
"And that is what I have clung to for two-and-a-half years."
After leaving hospital in Bristol, Emmy was admitted to the stroke ward at Raigmore Hospital in Inverness.
A few days later, she was moved to a medical ward where she was a patient for what she felt like "months on end".
She said: "At the hospital I was helped by a lovely physio, a cancer patient specialist, who I worked with once a week.
"The physio and other staff did all they could to help me."
Leaving Raigmore, Emmy said she was provided with two sessions of physiotherapy by NHS Highland.
She has since being using her benefits to pay for a weekly physiotherapy session. However, the physiotherapist she is working with believes two to three sessions of week would better aid her recovery.
Emmy's sister Rebekha has also started a crowdfunding campaign to raise enough money to pay for a lightweight orthosis, a type of leg brace, to help her walk.
The orthosis that Emmy uses at the moment is heavy and can only be used for short distances. The weight of the brace also risks causing damage to her spine.
Amid all this, Emmy is studying a science course at the University of the Highlands and Islands, and walking as much as she can.
She said: "I hope to not need the use of a wheelchair at all.
"Being able to walk further and to walk up stairs will be a dream come true."
Health journalist Pennie Taylor told the Kaye Adams programme that Emmy, like other stroke patients, faced challenges in receiving all the care they needed during rehabilitation.
She said: "Somebody like Emmy will go from a very specialist centre to a less specialist centre and then back home.
"A large part of the problem is joining up the network, and there not being enough physiotherapists. Like so much of the NHS, they are under great pressure."
NHS Highland said its door was open to discuss any further care that could be provided.
A spokeswoman said: "Many staff were involved in trying to provide the best possible care for Emmy.
"We are unable to discuss her details as it's important we maintain Emmy's confidentiality.
"Therefore all we are in a position to do is encourage Emmy to get in touch so this can be discussed with her in detail."