Portraits recall Iolaire disaster near Stornoway in 1919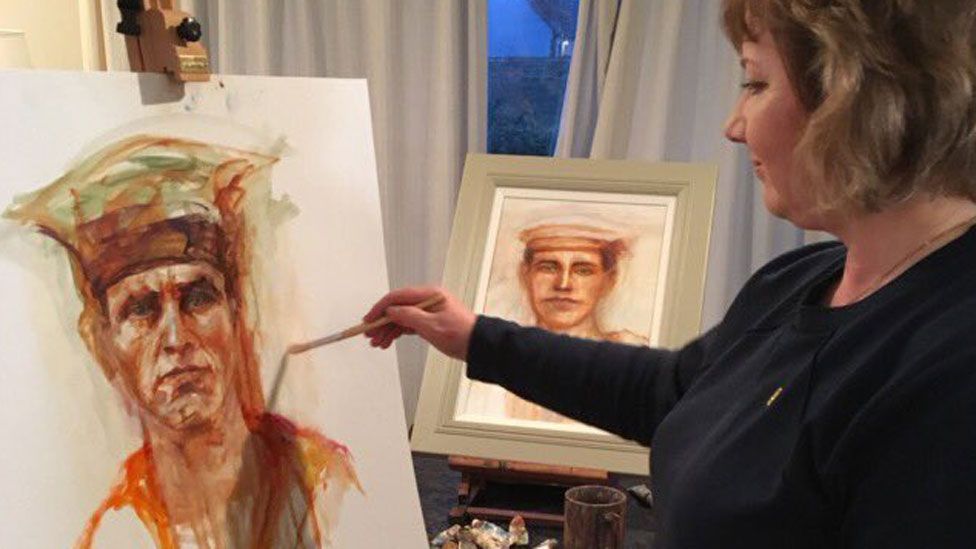 An award-winning artist is painting portraits of 100 of the 201 men who lost their lives in the Western Isles' Iolaire disaster of 1 January 1919.
The naval yacht HMY Iolaire was carrying home hundreds of sailors after the end of World War One.
The vessel was wrecked on a reef called the Beasts of Holm near Stornoway, in Lewis.
Western Isles-based artist Margaret Ferguson's portraits will help to mark 100 years since the disaster.
Her great-uncle was among those who lost their lives.
New memorials, a book and exhibitions will also recall the loss of 201 men.
Most of those who died were from Lewis or Harris, but many communities across the Western Isles were affected.
The last survivor of the Iolaire - which means "eagle" in Gaelic - died in 1992.
The yacht set sail from Kyle of Lochalsh on the west Highlands mainland on New Year's Eve 1918.
Making its final approach into Stornoway harbour on a dark night and in a strong gale, it changed course at the wrong point.
With the lights of the harbour in sight, the ship struck rocks at full speed and immediately began to tilt, filling up with water.
Although the stern of the boat was at one point just six metres (20ft) from land, many of the men onboard were weighed down by their heavy uniforms and were unable to swim ashore.
A public inquiry was unable to establish the reasons for the disaster.
Ferguson said the loss of the Iolaire had a devastating, long lasting effect on communities in the Western Isles.
She said: "It left widows, while other girls never married.
"Some of the men were found with engagement rings in their pockets. So you can imagine the impact of that on mental health.
"Not talking about it was the way people coped with it. It has taken three generations before we have started to come out of that."
An exhibition of the portraits will open at An Lanntair in Stornoway on 29 December.
Related Internet Links
The BBC is not responsible for the content of external sites.