Drone team joins Scottish Mountain Rescue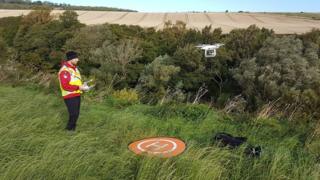 A team of drone pilots has formally joined Scottish Mountain Rescue (SMR).
Search and Rescue Aerial Association Scotland (SARAA-Scotland) supported a search for a missing person in East Lothian in September.
Shortly after the incident, the association became a full member following a vote at SMR's annual general meeting.
SMR's other members include Aberdeen, Arran, Braemar, Borders, Dundonnell, Oban and Skye MRTs.
An RAF team, two Search and Rescue Dog Association teams and three Police Scotland teams are also members.
Unmanned aerial vehicles have been used on various occasions in mountain search and rescues in recent years.
Lochaber Mountain Rescue Team has deployed drones in searches of peaks in its area.
Earlier this year, the rescue of a Scottish mountaineer Rick Allen in the Himalayas was aided by the use of a drone.