Oscar winner's new documentary tackles brother's suicide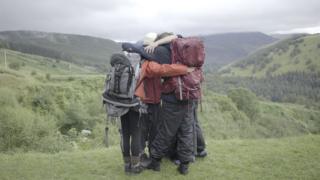 A film-maker made a road trip with his family from Aviemore to London in remembrance of his brother, who took his own life more than a decade ago.
Oscar-winning Orlando von Einsiedel filmed his personal journey for a documentary called Evelyn.
The trip, which began from the Aviemore home of the director's mother, involved walks and visits to the Cairngorms, Loch Lomond and the Isle of Tiree.
Evelyn is to be given a screening at Edinburgh's Cameo Cinema on Saturday.
Von Einsiedel won his Oscar for the short documentary, The White Helmets, which followed volunteer rescue workers in Syria.
Another of his films, Virunga, is about park rangers fighting to protect gorillas in the Congo. Hollywood star Leonardo DiCaprio was an executive producer on the documentary.
Von Einsiedel said he struggled to deal with his brother Evelyn's death.
He said: "When my brother died, I buried the bad memories that surrounded his illness and death, but in doing so, I also began to forget the good memories of times I shared with Evelyn.
"None of us - my youngest brother, Robin, my sister Gwennie or me - could bring ourselves to talk about what happened.
"It took 13 years for me to be able to say my brother's name again."
The film-maker added: "The process of making the film of walking, and talking about Evelyn and what happened was hugely cathartic and has helped set us on the path to healing."
Walks and talks are to be held around screenings of the film in collaboration with the Campaign Against Living Miserably, The Ramblers and male suicide prevention group, Andy's Man Club.