Inverness project's massive Halloween pumpkin vanishes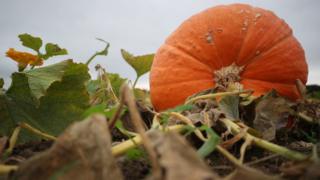 A community project in Inverness has appealed for help tracing its missing pumpkin.
Grown from a seed, the 20kg squash plant measuring 40cm (15in) was harvested last week at Inverness Botanic Gardens.
Shortly after it was harvested, the pumpkin disappeared from the gardens.
The Grow community project team, which grew the pumpkin, had hoped to turn it into a Halloween lantern and make soup from it.
High Life Highland, which runs the botanic garden, said: "We are very disappointed and sad that our prized pumpkin has disappeared from Inverness Botanic Gardens especially when we normally make the pumpkins grown here into lanterns for Halloween.
"The volunteers from our Grow project had been nurturing it all summer with impressive results producing the biggest pumpkin we have ever had.
"We have one small pumpkin left and are keeping it closely guarded until Halloween."