Hillwalkers warned about winter conditions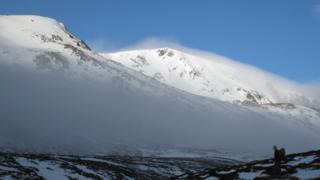 Walkers and climbers are being reminded to prepare for winter conditions in Scotland's hills and mountains.
Mountaineering Scotland has issued the advice amid the shift to fewer hours of daylight, and forecasts for snow this weekend.
The organisation, which represents outdoor pursuits enthusiasts, said having the right kit was not enough for the conditions.
It said people should also equip themselves with winter skills.
Heather Morning, mountain safety adviser for Mountaineering Scotland, said: "Winter is a tremendous season in the mountains and the rewards are great when everything comes together, with great views, a sense of adventure and a very real sense of achievement.
"But the winter mountains do demand a lot in return and you have to be ready for the many challenges."
She added: "Shorter daylight hours, dropping temperatures and the first snow on the hill are all good indicators that it is time to think about extra kit in your rucksack.
"Routes will take longer than expected in winter conditions and many people will end up finishing in the dark.
"So a head torch - and spare batteries - is crucial. In fact better still is to carry a spare head torch, which saves having to faff about in the cold and dark trying to change over batteries."
The advice comes just days after the third rescue in just weeks of walkers who got into difficulty in the Cairngorms and did not have the appropriate equipment.