Students of collapsed dive centre fear financial losses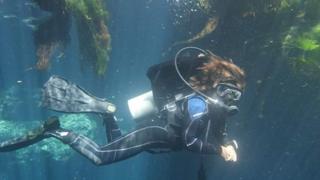 Students of a dive training facility that has gone into administration fear they have lost thousands of pounds on a course they just started last week.
Administrators have been appointed following the collapse of The Underwater Centre in Fort William.
Rosalinda Abeytia Sánchez spent three years working in the offshore industry to help her save the £16,000 she needed to attend the course.
James MacFarlane worked a year and half without a day off to pay his fee.
Rosalinda and James were among 10 students who were told during a class last Wednesday morning that the centre was going into administration, and they would have to go home.
The 10 had only just completed two full days of their course. They had still to go into the water at the centre.
Rosalinda and James have not been given any information on the future of the business, or if they will get a refund.
Rosalinda, a 33-year-old marine biologist from Mexico, said: "I have been diving for 15 years for work and for fun.
"Diving is my passion."
'My dream'
Rosalinda, who now lives in Estonia, said gaining a qualification in commercial diving was the next step in her career.
She said: "To spend my life on water, that is my dream.
"The training I started was to help increase my knowledge of diving."
Rosalinda spent three years working in the offshore oil and gas industry to help her raise the £14,700 course fee, and £2,000 accommodation costs.
She said she found it hard working away from friends and family for long periods of time on ships equipped for work searching for oil. But she did so with the knowledge she would eventually gain an important qualification.
After being told on Wednesday that their course had been cancelled and they would have to leave for home, Rosalinda said: "I cried."
James, a 23-year-old carpenter from Oban, decided to go on the course to improve his career prospects.
He spent a year-and-a-half working in carpentry and joinery to help him raise funds towards his £15,000 course costs. James also took out a five-year bank loan.
The course offered him the chance to gain the tickets he needed for dive work, and also access to further training opportunities.
'No money and unemployed'
James said that on last Wednesday morning he and his course-mates were taken into a classroom with a group remotely operated vehicles (ROVs) students when a boss walked in and broke the news about the situation the business was in.
He said: "To the Underwater Centre's credit, they did pay for the students' travel costs home. There was Rosalinda trying to get home, and also another student going back to Trinidad and Tobago and one back to Malta."
But he added: "I don't know if I will see the money I and the others have spent.
"I would imagine the companies the centre owes money to will get what they are owed first.
"There is another place I could gain the qualification, but right now I have no money and unemployed."
Administrators Johnston Carmichael said it would "explore the options" for the Underwater Centre in Fort William.
Donald McNaught, restructuring partner at Johnston Carmichael, said: "The administrators can confirm a course, which was due to commence immediately post administration, had to be cancelled.
"Every effort will be made by the administrators to explore avenues for those courses to be continued via new ownership however it is too early to establish whether that will be possible."