Inverness woman breaks record for cycling around world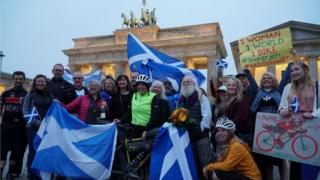 A Scottish adventurer has become the fastest woman to cycle around the world.
Jenny Graham, from Inverness, circumnavigated the globe by bike in 125 days.
The 38-year-old arrived at the Brandenburg Gate in Berlin on Thursday.
Jenny knocked almost three weeks off the previous women's record of 144 days, which was set by Italy's Paola Gianotti in 2014.
She left Berlin on 16 June, and cycled 18,000 miles across four continents, travelling through 16 countries.
She passed through Germany, Poland, Latvia, Lithuania, Russia, Mongolia, China, Australia, New Zealand, Canada, US, Portugal, Spain and France.
She took four flights and one boat, and carried everything she needed with her.
Jenny said she cycled for 32 hours to get to the finish line, and that the team effort to organise the world record attempt started around a year before she began.
She said: "I just set out to see how far I could go. The furthest I've cycled before was from Land's End to John o' Groats, now I have cycled right around the world.
"It's sometimes been tough, but I thrive on challenges on the road and of course it has also been so amazing!
"I knew I wanted to do something solo to test my physical and mental ability.
"I am the fittest I have ever been, so I thought I'd train hard and give it a go - here I am back in Berlin, I can hardly believe it."
She said the response from people around the world was mostly good.
"The majority of people wanted the best for me, and wanted to help me. Getting away from them was the hardest part."
To make the record official, Guinness World Records still needs to ratify the data.
Fellow Scot Mark Beaumont is the current male record-holder for the feat, which he completed in September 2017.