Netty's Tree on Eriskay is Scotland's Tree of the Year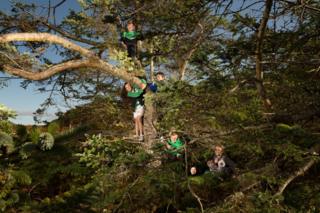 A spruce tree on Eriskay in the Outer Hebrides has been named as Scotland's Tree of the Year.
Netty's Tree was nominated in the Woodland Trust competition by Eoina Wilson who lives in Inverness but originally comes from the island.
Judges chose six trees from public nominations which were then put to an online vote.
Netty's Tree will now compete in a vote to be the UK's contender for European Tree of the Year.
The spruce was, until recently, the only tree on the windswept island.
'Worthy winner'
It was planted more than 100 years ago by the poet, priest and land rights activist Father Allan McDonald, whose best-known poem was Eilein na h'Oige - The Island of the Young.
Netty MacDonald lived on the nearby croft and encouraged all the island's children to play on the tree as their cries and laughter reminded her of her own family who had grown up and moved away to work.
Netty died aged 88 in 2010 but her daughter Anne MacIntyre is back on the croft and continues the tradition.
The winning tree, as well as those for Wales, Northern Ireland and England, were revealed live on the BBC's The One Show on Wednesday:
Northern Ireland: The Giant Sequoia, Castlewellan Forest Park, County Down
England: Nellie's Tree, Aberford, Leeds
Scotland: Netty's Tree, Eriskay, Outer Hebrides
Wales: Pwllpriddog Oak, Rhandirmwyn, Carmarthenshire
The winning trees all receive a £1000 Care award thanks to players of People's Postcode Lottery. This can be spent on work to bolster the health of the tree, signage and interpretation or a community celebration.
The Tree of the Year contest aims to showcase the UK's best trees to help drive up interest in their value and protection.
George Anderson, of Woodland Trust Scotland, said: "Having a tree to climb as a child seems like something many of us take for granted. When there is only one tree where you live, that connection becomes quite special.
"Imagine the generations of youngsters with memories of this tree. It is a very worthy winner. Now let's get Netty's Tree through to Europe."