National Trust to root out knotweed and rhododendron species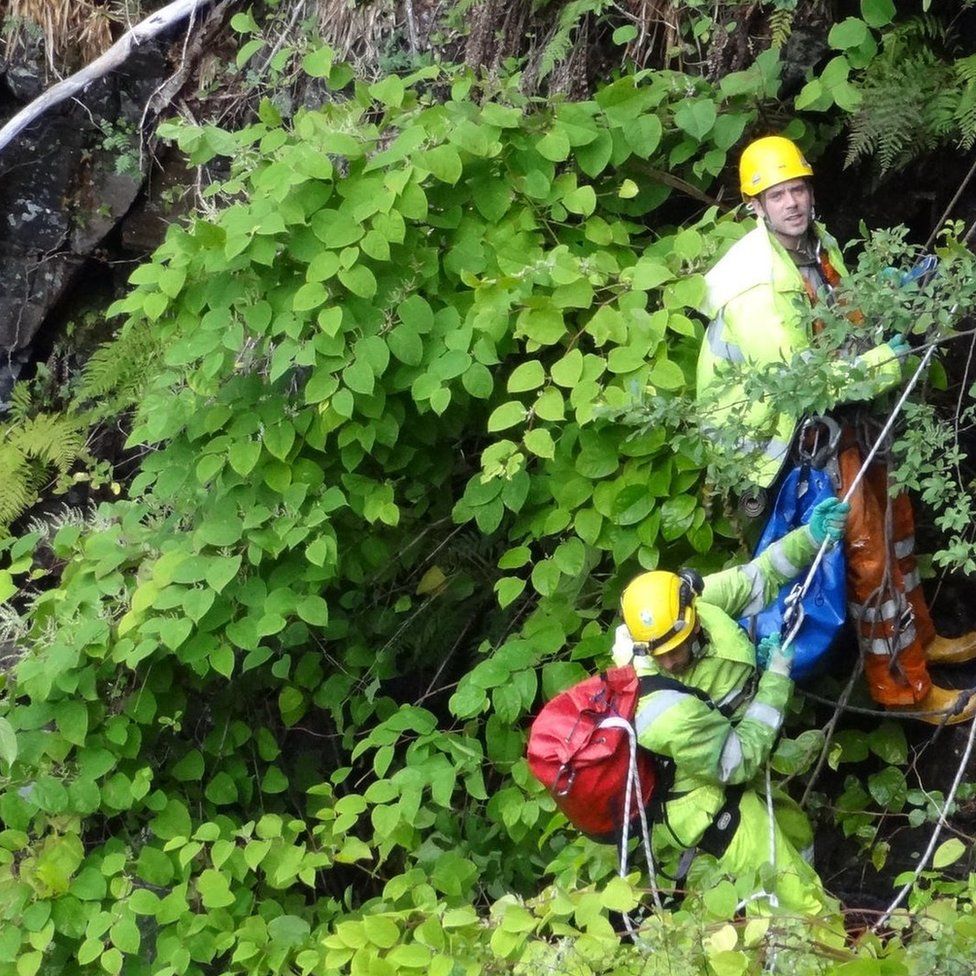 Conservation workers are abseiling into one of Scotland's most spectacular gorges in an effort to tackle the scourge of Japanese Knotweed.
A team of recreational gorge scramblers have also been enlisted to help root out the invasive plant from Corrieshalloch Gorge, near Ullapool.
The National Trust for Scotland says the non-native species are suppressing other plants in the flora-rich ravine.
But they are growing in places which are extremely difficult to access.
Japanese Knotweed and Rhododendron ponticum have spread into the gorge and along the River Broom, according to the NTS.
The Rhododendron threatens to block out sunlight and prevent other plants from growing, while the knotweed can loosen river banks with its root system.
Now workers will abseil into the gorge to identify where the species have grown and inject, weed-wipe, or spray them with a measured dose of herbicide.
The NTS says the move will protect the gorge's diverse range of native trees, including aspen, hazel, and rowan, as well as mosses, lichens and ferns.
Wildlife such as red squirrels, ravens and golden eagles also depend the gorge's flora.
Rob Dewar, nature conservation advisor with NTS, said: "Both Rhododendron ponticum and Japanese knotweed are a very serious threat to the rich diversity in the gorge.
"These plants are in a very extreme place to access, but we need to take thorough measures to make sure we identify the areas affected and remove the invasive species."
Corrieshalloch is one of eight national nature reserves (NNRs) which is managed by the trust.
What is Japanese Knotweed?
Japanese knotweed (Fallopia japonica) is a weed that spreads rapidly.
In winter the plant dies back to ground level but by early summer the bamboo-like stems emerge from rhizomes (horizontal stems) deep underground to shoot to over 2.1m (7ft), suppressing all other plant growth.
Eradication requires determination as it is very hard to remove by hand or eradicate with chemicals.
The NTS is also being assisted by Scotland's gorge scrambling community, who are regular visitors to Corrieshalloch.
As they can get into areas that might otherwise not be accessed by regular surveys, they are able to spot colonies affected by the invasive species that no one else would.
Rob Dewar added: "The gorge scrambling community is acting as our eyes in the difficult depths and corners of Corrieshalloch - we're also working with them to develop sustainable adventure tourism at the site.
"We want to use their knowledge as much as we can to tackle colonies of the invasive plant species that may otherwise be missed - they can make a real difference to the future of the gorge, all while doing what they love."
The conservation project at Corrieshalloch Gorge is part of the NTS programme to invest almost £60m over the next five years.
What is Rhododendron ponticum?
Rhododendron ponticum is a non-indigenous evergreen shrub that grows particularly well in the climate and soils of the UK.
Although it has attractive flowers, it has been shown to reduce the number of earthworms, birds and plants.
Their long-term eradication from a site is difficult as mature bushes can produce up to a million seeds a season, continually reinvading surrounding habitats.
Related Internet Links
The BBC is not responsible for the content of external sites.