Mull faces fewer ferries over winter timetable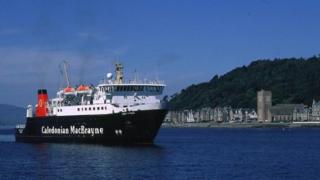 Fears have been raised about the impact that a new winter ferry timetable could have on residents and businesses in Mull.
Some commuters claim they will not be able to get to Oban in time for work when the service is reduced to four sailings a day on 22 October.
Caledonian MacBrayne blamed the "condition of the infrastructure" at Mull's Craignure port for the decision.
The ferry operator said it could not berth a vessel there overnight.
Elizabeth Ferguson, chairwoman of the Mull and Iona ferry committee, said they had been up to 12 sailings a day during the summer.
Island sustainability
The winter service could have a serious impact on the island community, she added.
"It means we cannot get to Oban until just before ten in the morning, and we need to be back queuing up ready for the ferry at three-thirty in the afternoon," she said.
"We don't even get a full day on the mainland during the winter service."
Andy Knight, the managing director of TSL Contractors, which is based in Craignure, Mull, accused the Scottish government of being unwilling to take the issue seriously.
"I think that more and more businesses on Mull are trading off the island and I think that's great for local employment and I think its great for the sustainability of the island," he said.
"However, the Scottish government and Transport Scotland have to do their bit and at the moment there seems to be an unwillingness to take this seriously, and does it take someone making a significant cut in their work force to get them to listen?
"We want to continue building our business, we want to continue employing people locally, but it does seem to be getting harder and harder. In these days clients expect us to be flexible and to provide to their requirements.
"We have no choice but to employ more people in the mainland or carry the cost or accommodation."
'Community aspirations'
A CalMac spokesman said: "Consultation is carried out with ferry groups in advance of the timetable being set and several options were identified to carry out more sailings over the winter from Oban to Mull.
"Unfortunately due to the condition of the infrastructure at Craignure it is not possible for a vessel to berth there overnight meaning the first sailing of the day has to start in Oban which would have significant cost implications. All the options were presented to Transport Scotland for consideration."
Transport Scotland said the winter timetable was developed over a number of years in consultation with the community.
A spokesman said it allows islanders at least five hours on the mainland every day, with late returns on Friday and Saturday.
He added: "We are aware of community aspirations for further improvements to the Oban-Craignure winter timetable. We asked CalMac to explore all options, however balancing cost against benefits it's unfortunately not possible to accommodate the request at present.
"Looking ahead, we are aware that Argyll and Bute Council are examining and costing the options for the long-term redevelopment of their harbour at Craignure. This will include options for the provision of an overnight berth enabling a wider range of timetable options to be considered by CalMac."