Corncrake remains vulnerable, says RSPB Scotland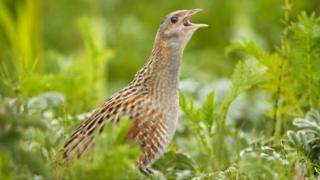 RSPB Scotland has said one of Scotland's rarest birds remains "vulnerable" following the latest annual survey of its numbers.
Corncrakes migrate from Africa to breed on islands including Lewis, Harris, Mull, Orkney and parts of the north-west Highland coast and Argyll.
The birds are counted by listening for the call of males.
RSPB Scotland said this year 884 males were recorded, a "marginal increase" of 18 birds from 2017's figures.
The charity said 2018's number was still down 31% from the 2014 high of 1,289 males.
It said that there were indications of slightly better results seen in some areas such as North and South Uist, with increases of 18 and 30% from last year.
But it said these were outweighed by losses elsewhere, including in key sites in Islay.