Ice Age tiny dancer clinging to survival in Cairngorms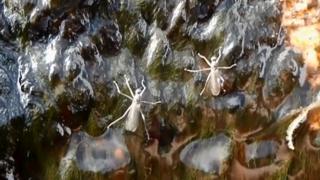 A species of fly that has lived in the Cairngorms since the last Ice Age is at risk from climate change, Scottish Natural Heritage (SNH) has said.
The tiny Wiedemmania simplex inhabits remote Loch Avon and is found nowhere else in Britain.
Its larvae grow in the cold water of the deep loch, which lies 725m (2,378ft) up in the mountain range.
SNH said the temperatures of nearby rivers had risen by 3C over the past 100 years.
It said the pace of the temperature change of Loch Avon, which is fed by snow-melt, was expected to be slower but that the lifecycle of Wiedemmania simplex would be threatened if it increased.
'Dance' across rocks
Once the larvae emerge from the loch as adult flies, they live on the water's edge on granite boulders.
SNH, which has made a film to raise awareness of the fly, said the creatures "dance" across the rocks and are able to survive being lapped by waves which would drown other insects.
The nearest other populations of Wiedemmania simplex are in Norway, Finland and Russia.
At about three miles (5km) in length and more than 98ft (30m) at its deepest point, Loch Avon is the highest body of water of its size in Britain.
Iain MacGowan, of SNH, said: "This rare fly is one of our British species most at risk from climate change.
"If a rise in temperature at Loch Avon causes it to disappear, this could be one of the first signs that climate change is having a direct impact on our biodiversity."