Doctors allege 'bullying culture' at NHS Highland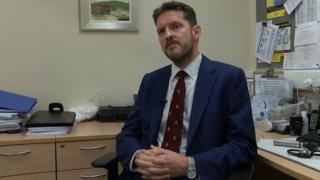 A group of senior clinicians at NHS Highland have spoken out about what they claim to be a culture of bullying at the health board.
The doctors said that for at least a decade there had been a "practice of suppressing criticism, which emanates from the very top of the organisation".
They said this had led to a culture of "fear and intimidation" that has had a "detrimental effect" on staff.
NHS Highland said it was aware of an accusation of a bullying culture.
The health board said it took such allegations extremely seriously.
Health Secretary Jeane Freeman said she took any allegations of bullying with the health service seriously, and had received an assurance from NHS Highland's chairman David Alston that he will be meeting with the doctors.
'Very willing'
The clinicians, Dr Eileen Anderson, Dr Lorien Cameron-Ross, Dr Jonathan Ball and Dr Iain Kennedy, made their allegation in a letter to The Herald newspaper.
Dr Kennedy told BBC Radio Scotland said they would "very much welcome" an independent inquiry into the running of NHS Highland.
He added: "All of us would be very willing to speak to that inquiry."
Dr Kennedy told the Good Morning Scotland programme: "In some parts of the organisation, there is a culture of fear.
"Doctors and nurses and some managers have told us when they raised concerns they felt intimidated and marginalised.
"Ultimately, this bullying culture is bad for patients because if doctors and nurses don't feel able to speak up then there is a risk to patient safety.
"Also, it is not having a good impact on recruitment and retention of clinical staff in the Highlands, and we struggle to recruit people in this area."
'Strong words'
Dr Kennedy said there had been "high turnovers" of staff at Raigmore Hospital in Inverness and Belford Hospital in Fort William.
He claimed staff had tried raising concerns through "whistleblowing" procedures, but had not found this process "satisfactory".
In a statement, NHS Highland said: "The board was made aware through their representatives of an accusation of a 'bullying culture' within NHS Highland.
"Prior to the board meeting, members of the board had offered to meet with some of the representatives. A further offer to meet has again been made today.
"The board takes such allegations extremely seriously and any complaints made will be fully investigated through appropriate procedures."
Scotland's health secretary said she expected NHS Highland to deal with the doctors' allegations in the proper manner.
Ms Freeman said: "They are indeed strong words and I take any assertions and allegations of bullying and harassment in any part of our health service very seriously indeed.
"I spoke to the chair of the health board last night and asked him to make sure he could meet the signatories of the letter as quickly as possible.
"I understand he is doing that tomorrow."
NHS Highland's medical director, Dr Rod Harvey, said a culture of bullying was something that he did not recognise personally.
He said he was "surprised and concerned" by the allegations, which were first raised at an area medical committee meeting. The allegations were then brought before the board on Monday.
Dr Harvey said the health board would investigate the claims.