Dry dock at Kishorn ready for recycling work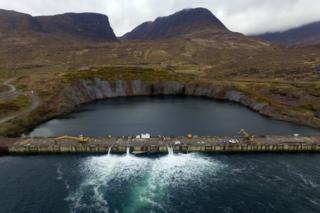 New steel could be made from metal recycled from decommissioned offshore structures under a plan involving one of Europe's largest dry docks.
Kishorn in the west Highlands was established in the 1970s.
It has now been refurbished and made available for new work, including recycling offshore infrastructure.
Liberty Steel, part of a group that owns the Fort William aluminium smelter, has proposed using the metal for making new steel.
This would involve the company building an arc furnace at one of its sites.
The facility was built to help with the construction of the North Sea oil and gas industry's Ninian Central Platform in the 1970s.
During the casting of massive concrete structures for the platform, more than 3,000 workers were accommodated at the site.
It was also used for the making of supports for the Skye Bridge. These were moved out of Kishorn to Skye in 1994.
The refurbishment of the dry dock included a clean-up of the site and the construction of a new access road down into the dock.
Development agency Highlands and Islands Enterprise (HIE) and the Oil and Gas Authority have been working with Kishorn Port Ltd to promote the site.
Audrey MacIver, director of energy and low carbon at HIE, said: "The dock has huge potential, particularly in the decommissioning of floating structures and platforms which can be removed in a single lift, renewables and aquaculture.
"It would be great to see it coming to life again, providing valuable rural jobs, contributing to both economic and community growth and the wider competitiveness of the region."
She added: "We believe it is now only a matter of time before the facility witnesses a long line of decommissioning and construction projects."