Warning of erosion to medieval Ui Church in Lewis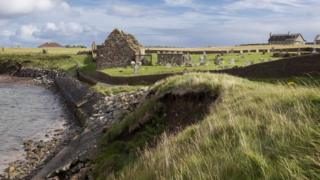 Coastal erosion threatens the site of a medieval church, that is also believed to be the resting place of Macleod clan chiefs, according a trust.
Ui Church is on the Aignish peninsula in the Isle of Lewis.
Urras Eaglais na h-Aoidhe, the Ui Church Trust, is concerned the graveyard is at greatest risk due to land being lost to erosion nearby.
A coffin-shaped stone with a carving of a sword at the church, is believed to mark the clan chiefs' burial site.
In the past, it was thought the Sword Stone was linked to the Knights Templar.
'The Vikings'
Colin Scott Mackenzie, honorary president of Ui Church Trust, said it was a significant historical site.
He said: "It was, in its day, the most important church in the Hebrides. It was the richest church in the Hebrides.
"It was burnt down twice in its early days, possibly by the Vikings, and that it's here at all is a wonder."
But he added: "There's been local people who've been anxious about it and it would seem that winter storms have been getting worse in recent years.
"The sea wall that protects it has been damaged severely half a dozen times in the last 10 years.
"We've spent what we could, and we protected the church. If we hadn't done that, it wouldn't be here now."
'Starfish in church'
Trust secretary Liz Chaplin said the church was in "a horribly exposed location", and in winter waves had been seen coming right over the site.
She said: "We've had starfish in the church."
The Sword Stone's importance to the Clan Macleod was explained in a lecture earlier this week organised by the church trust, and funded by Point and Sandwick Trust.
Genealogist Andrew MacLeod, who delivered the annual Colm Cille Lecture, said the stone's carved sword referenced one particular chief's reputation as "an excellent swordsman".