Road in Harris shut by landslip partially reopens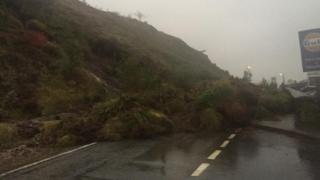 The main road linking the south of Harris and Lewis at Tarbert has been partly reopened to traffic following a landslide on Monday.
Tons of mud and rock have been cleared from A859 to allow one lane to be opened.
Local authority road engineers are inspecting the hillside where the landslip happened during heavy rain.
The incident had prevented access to Harris's main school, Sir E Scott. It has been closed until Wednesday.