US couple living in Inverness win legal fight to stay in UK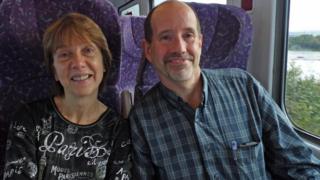 A husband and wife who moved from the US to run a guesthouse in Inverness have won the right to remain the UK.
Russell and Ellen Felber came to Scotland in 2011 on a so-called entrepreneur visa, and bought the B&B which they then refurbished.
But since 2016, the couple have been in a legal battle with the Home Office to stay in the UK.
They were facing deportation, but have now been awarded the right to remain by an independent immigration judge.
The Felbers originally came to Scotland on a three-year visa and were advised that the UK government required them to employ either two full-time employees for 12 months, or one employee for 24 months.
They chose to employ someone for 24 months and were granted a two-year extension to their original three-year visa.
However, when the couple applied for leave to remain in early 2016, the Home Office refused to grant the application, saying the pair should have employed more people during their time in the UK.
The Home Office wrote to them in December 2016 telling them they had 30 days to leave the UK.
The Felbers then instructed lawyers who went to the Court of Session in Edinburgh.
Last year, the court heard the Home Office had changed the rules in 2014 regarding the numbers of employees that people on entrepreneur visas had to employ.
Also in 2017, a judge sitting at the Court of Session issued a written judgement concluding that the home secretary acted correctly in the Felbers' case.
Inverness, Nairn, Badenoch and Strathspey SNP MP Drew Hendry has welcomed the independent immigration judge's decision, which came on Friday.
Mr Hendry, who had raised the couple's case at Westminster, said: "They have been put through utter hell by the Home Office and this judgement by the courts is a vindication of everything we have said all along - they did nothing to deserve this treatment.
"Russell and Ellen followed the Home Office rules, they did what they were supposed to - as has now been proven in court. Yet they have had to spend the last few years of their lives fighting to stay here, costing time and money they will never get back."